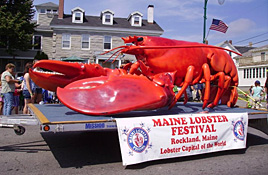 Particularly in the summer and fall seasons there is a festival or event taking place in the Rockland/Camden area or nearby almost every weekend.  There are celebrations to honor Pumpkins, Cheese, Local Farms, Maple Syrup, Oysters, Pies, Mushrooms, Blueberries and of course the Lobster Festival to celebrate our favorite foods.  Windjammers, Blues, Toboggans, Lighthouses, Arts, Wineries, Films, Pirates just to name a few of the other honorees for events.  Needless to say this is only a partial list of the larger or more notable Maine festivals and events in the area that surrounds our Rockland, ME lodging.
JANUARY
13th Annual Pies on Parade Event
January 29, 2017
Rockland dubbed "Pie Town" by the Food Network celebrates National Pie Day (1/23) in a big way!  More than 40 types of sweet and savory pies are served at over 25 different inns, restaurants and businesses to ticket holders as a fundraiser for our local food pantry. To date more than $135,000 has been raised.  It is a great event for a great cause.  Check out our 1 and 2 day packages but book early we sell out early.
FEBRUARY
25th US National Toboggan Championships
February 10-12, 2017
The Camden Snow Bowl is host for the country's only wooden toboggan race.  Over 400 teams participate in this fun two-day event that includes individual, duos and team races; costume contests; a chilli challenge and fireworks.   Great fun as a participant or just watching the show!
JUNE
Midcoast Maine Lighthouse Challenge Weekend 
TBD Last Weekend June 2017
This is one of two weekends that many of the lighthouses in the Midcoast Maine region are all open to the public to go inside. You will have the opportunity to visit seven lighthouses over the two day event;  take a sunset cruise on Friday night to see six total lighthouses (4 only visible from the water); enjoy tales from a lighthouse keeper's daughter on Saturday night and with the completion of your "lighthouse passport" be entered in a drawing for a free two-night stay at the Berry Manor Inn or other Historic Inn of Rockland of your choice.
JULY
Festival of Independence
July 1 – July 8, 2017
All of the local communities share in the celebration with several different fireworks displays available for viewing on land or on a schooner, community chicken BBQ, parades and  outdoor concerts.  Additionally,  the Great Schooner Race from Islesboro to Rockland with more than two dozen tall ships is scheduled for 7/8 and a Fabulous '50s antique car and airplane show at the Owls Head Transportation Museum.  The Berry Manor Inn also offers a special July 4th package.
Annual North Atlantic Blues Festival 
July 15-16th, 2017
The North Atlantic Blues Festival is now in its 20th year and although not the largest Blues Festival in the country is considered to be one of the best.   Enjoy a remarkably talented line up of head liners and up and coming musicians while looking out over the beautiful Penobscoat Bay!! This is an extremely popular event with many repeat customers so book early to enjoy being walking distance to the event and the Saturday night pub-crawl.
70th Maine Lobster Festival
August 2nd – August 6th, 2017
Five days of fun dedicated to celebrating Maine's famous crustacean – the lobster! The festival opens with King Neptune and his sea hags coming from the sea with a Coast Guard escort of course!!  The eating tent serves freshly caught single, double and triple lobster dinners from noon to closing cooked in the world's largest lobster cooker on premise.  There are also other seafood and festival foods available; a crafts tent; marine tent; carnival games and rides; entertainment; lobster crate races; lobster cook offs and much more including a fabulous community parade on Saturday morning.  Sunday is community day with free admission.
AUGUST
13th Maine Boats, Homes & Harbors Show
August 11 – 13, 2017
This is the only in-water boat and home show which features local boat builders, craftsman, designers, cabinet makers and artists.  Great Maine food, demonstrations and Sunday is the World Championship Boatyard Dog contest where one of the rules requires dog and owner to go into the water!
38th Annual New England Auto Auction
TBD August 2017
Come and bid or come and dream at the 35th Annual New England Auto Auction at the Owls Head Transportation Museum. Up to 200 antique, classic and special-interest vehicles are on the block.
Union Fair and Blueberry Festival
August 19 -26, 2017
This week long agricultural fair salutes the Blueberry – Maine's Wild Blueberry that is! There are animals, tractor pulls, greased pig contests, music, carnival rides and everything blueberry – blueberry pies, muffins, breads, ice cream, etc…  A wonderful, old-fashioned community fair.
SEPTEMBER
Windjammer Festival and Labor Day
TBD Early September 2017
Celebrate the unofficial end of the summer season with a three-day weekend celebrating Midcoast Maine's maritime history. All of the schooners will be in harbor for tours, the crew's vie for bragging rights at the talent show, there are pirates, maritime history booths and fireworks! Book early on one of the day sailers to be out in the open water with all of the windjammers. End the weekend at the Owls Head Transportation Museum's vintage motorcycle and antique airplane show.
Maine Open Lighthouse Day
TBD September 2017
Coordinated by the US Coast Guard, the 4th Annual Maine Open Lighthouse day will feature 22 lighthouses open to the public for tours. Many of these lighthouses are only open to the public on this day.  About 15 of the lighthouses are located in the Midcoast Maine region near the Berry Manor Inn. Your innkeeper can help you with directions and maps.
12th Annual Camden International Film Festival 
TBD September 2017
Camden International Film Festival includes a weekend of screenings of films and takes place in Camden, Rockland and Rockport throughout the weekend including receptions and parties to celebrate the event.
OCTOBER
Harvest Party  2016 takes place on 10/8/16 from 9-4pm at the Savage Oakes Winery in Union.  Help harvest the grapes and watch and celebrate the grape crush. Guided tours, wine tastings, and other fun events for all ages.
Damariscotta Great Pumpkin Festival 2016
The festival begins 10/1/16 with the great pumpkin weigh ins.  The heart of the festival is really the following weekend 10/8-10/10, 2016  which will feature the pumpkin catapults for both distance and accuracy, the pumpkin drop and the ever popular Great Pumpkin regatta.
Fright at the Fort – Maine's Scariest Halloween Adventure
October 17. 10/23 & 24; 10/30-31, 2015
Not for the faint of heart- named Maine's scariest haunted house by DownEast Magazine!!  Offering haunted group tours through the dark and damp underground tunnels of Fort Knox.
NOVEMBER
Festival of Lights Celebration
November 25th and 26th, 2016
Start the Holiday season right at Rockland's Festival of Lights Celebration.  Santa arrives by Coast Guard boat, the famous lobster trap tree lighting, Festival of Lights parade. The holiday house tour has been cancelled for 2015.
DECEMBER
Christmas by the Sea
December 1 – December 4, 2016
The Holiday celebrations continue in the Rockland/Camden area with the Christmas by the Sea celebration. Parade, community tree lighting, entertainment, business open houses and holiday sales take place throughout the downtown area.