Honeymoon Special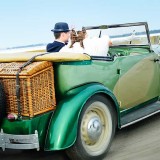 Coast of Maine's Best Honeymoon Destination
Available: ALWAYS!
Spend your honeymoon or second honeymoon with us and make memories that will last a lifetime!! Romance and elegance will abound when you combine the beauty of the Maine Coast with our grand Victorian mansion given in love as a wedding present to the original owners. Each season in Maine is unique from spring's new birth to fall's colorful show to winter's stark wonderland. Our deluxe luxury king rooms in the carriage house (Rooms #9,11,12) the former Master Bedroom of the Manor house (room #3) or the former Ballroom (room #5) are the perfect spots to spend your first days of marriage! Our rooms can provide a very private retreat with whirlpool tubs (some two person), fireplaces and candles. We will provide turn-down service with rose petals scattered across the crisp bed linens and a complimentary bottle of a chilled sparkling beverage for your wedding night and give you all the pampered attention you want or not…
Enhance the memories by adding any of the following packages to your stay:
(must be ordered in advance)

$35 – Basic Honeymoon Package – Chocolate Dipped Strawberries, Rose Petals and Sparkling Beverage at Turndown
$45 – Handmade Chocolate Truffles from our local chocolatier, Rose Petals and Sparkling Beverage at Turndown
$75 – In-room Picnic to allow privacy and food (since you never get to eat at the reception!) while you open up all of those envelopes!
$250 – In-room couple massages by licensed masseuses for 1 hour to help release pressure from planning the big day (single $125 for one hour)!
Rates vary by room choice.