Savor the Summer Flavors of Midcoast Maine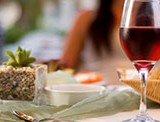 Offered: June through Mid-October, 2014 ; Sunday –Tuesday nights (not available holidays)
Savor the Summer Flavors of Midcoast Maine
Exclusive tastings, a Midcoast Maine wine tour and special offers pack this culinary package with value
The Rockland Camden area of Midcoast Maine is quickly gaining a reputation as a foodie town.   Offering award winning restaurants, specialty food producers and a burgeoning wine region, Midcoast Maine's culinary adventure abounds, so the Berry Manor Inn and the Historic Inns of Rockland have combined the best of the foodie elements into one fantastic package.  Culinary explorers, foodies and those who love to explore local foods will enjoy this fun-filled itinerary to explore and savor the flavors of Midcoast Maine accompanied by the finest accommodations in your choice of beautifully appointed rooms at the Berry Manor Inn.
With so much happening on the Rockland and Camden culinary scene, we have packed a three day/night package with locally sourced foods and exclusive tours and tastings. You will need all three days and nights to explore all that's offered in the Midcoast food scene. The package is offered Sunday through Tuesday, and features both scheduled exclusive features and self-guided foodie fun throughout the three days and nights.
The Savor the Summer Flavors of Midcoast Maine package includes:
Three wonderful nights (Sunday, Monday and Tuesday) in the room of your choice which may include a fireplace, soaking tub, whirlpool tub for two and/or body jet showers;
Three delicious and filling breakfasts to give you the energy to enjoy
the day;
Hot tea and homemade pies in the Guest Pantry area to relax you when you return
to the inn in the late afternoon for a nap before dinner;
A self-guided garden tour of the renowned Primo Restaurant, a pioneer in Farm to Table philosophy (guided tour on selected dates only otherwise self-tour).  Primo Restaurant was named America's top eco-friendly restaurant for its sustainable practices in 2008 by Bon Appetit Magazine and the Andrew Harper Grand Award for Restaurant of the Year winner in 2012 and the chef/owner Melissa Kelly won the James Beard Award for the Northeast in 2013 for this restaurant.
$50 in Midcoast Money to use at any of our wonderful participating restaurants in town – ask your innkeeper to help with preferred seating and to assist with reservations;
A self-guided tour and map of the specialty food purveyors in the Rockland Camden area with tastings and samples provided exclusively to guests of the package;
A special tasting at FIORE's Olive Oils and Balsamic Vinegars where you will sample balsamic vinegars that are 10, 15 and 18 years old while learning cooking tips and recipes and history and health benefits of olive oils and vinegars;
A special tour of Cheese Making at the State of Maine Cheese Company;
An exclusive beer tasting and conversation with Dan Pease, brew master at Rockland's only brew pub;
An exclusive vineyard tour and wine tasting at Breakwater Vineyards;
A copy of the Historic Inns of Rockland Cookbook;
An Historic Inns of Rockland Apron filled with a special collection of value offers for savings exclusive to packaged guests offering savings from Rockland and Camden area restaurants (offering free apps, desserts or special offers), stores (offering discounts), spas (offering discounts on massages and treatments) and attractions (offering discounted or half price tickets). The value collection represents more than $200 in savings.
The package starts at $520  per couple (plus ME tax).  Package price will vary by date and room selection and is NOT available Memorial Day, July 4th week, Blues Festival, Labor Day or Columbus Day weekends.
At the end of a long, delicious day, plan to return to your luxuriously appointed room and experience our unprecedented comfort and hospitality – without the pretense!  We offer the kinds of amenities plugged in travelers seek from complimentary WiFi access to guest computers, lavish private baths many with over-sized whirlpool tubs for two or body jet showers, air conditioning and in-room fireplaces within a homey, comfortable atmosphere. Sleep well in our comfortable beds, indulge in a piece of homemade pie and start anew the next morning with a sumptuous hand-crafted breakfast for two.
This summer, plan your culinary caper to Rockland and enjoy a three day gastronomic getaway you won't forget.
This package cannot be combined with any other specials or discounts and is subject to the inn's normal policies including a 10-day cancellation policy. Prevailing Maine State lodging tax rate will apply. Room nights must be consecutive and in the same room unless room change is approved by inn.