11th Annual Pies on Parade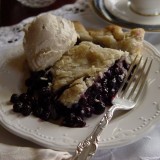 Available: 11th Annual Pies on Parade will take place Sunday, January 25, 2015.  Packages available January 24th-26th, 2015
Come to PIE TOWN and enjoy the Historic Inns of Rockland's 11th annual "Pies on Parade" event in celebration of National Pie Day, January 25th and EAT PIE!!!!! Last year over 8,000 pieces of pies and 55 different types were on parade in PIE TOWN for this event and $20,700 was raised for our local Food Pantry. Once again, we are adding some exciting pie eating events for Saturday, January 24th exclusive to our package guests.  Don't worry about missing any football, the event is scheduled for a non-football weekend between the playoffs and the Superbowl.
On Saturday afternoon, enjoy a special docent led tour at the Owls Head Transportation Museum where pies will be paired with antique cars by country of origin (ie; Linzer torte with German Cars). After the museum, skip over to Project Puffin for an exclusive tour and enjoy some "Cream Puffin Sweetie Pies" and end your afternoon at a "Wine and Pie" pairing at the Wine Seller (our package guests are invited to sample before the tasting is opened to the general public).  Enjoy dinner on us at any number of participating downtown restaurants with a $50 voucher and return to the inn for your "personal pies" at turndown.
On Sunday morning, ticketed guests are invited to a special tour of the Maine Lighthouse Museum starting at 11am and enjoy "Lite Pies" served by the Coast Guard.  The actual Pies on Parade event will be run from 1 to 4:00 pm (at the venues) and will include over twenty-five venues to satisfy all of your pie eating needs.  There will be a silent auction featuring many of your favorite venue's pies, gift certificates and other items to help raise more money for the Food Pantry from 4-6pm on Saturday January 24 also featuring Pie-themed specialty drinks and entertainment.
Each of the participating venues will feature sampling of sweet and savory pies and includes such choices as pizza pie, pie iron pies(paninis) , shepards' pies, whoopie pies, decadent chocolate pie, pizzettas just to name a few. We will once be offering complimentary continuous shuttle service to all venues participating in this event.
Due to the popularity of this event and with the Berry Manor Inn "Moms Behaving Badly" appearing on Food Network's "Throw Down with Bobby Flay" we strongly suggest that you book early as we generally sell out. This is one of the largest fundraisers for AIO (Area Interfaith Outreach), our local food and fuel community assistance program. Every participating inn and restaurant venue donates their time and product so that 100% of all ticket sales go directly to the AIO. In 2014, this event raised $20,700 and to date over $83,000 in ticket sales all by eating pie!!!!!
Two night packages (Friday/Saturday or Saturday/Sunday) range from $420 to $520 and include ALL of the following:
Two tickets to the Inn-to-Inn Pie Tour (normally sold out event);
Fabulous accommodations in one of our AAA Four Diamond rated rooms for two nights;
Admission to a special Owls Head Transportation Museum tour, a Project Puffin presentation, private tour of the Maine Lighthouse Museum and the Wine and Pie tasting including special pie refreshments;
A $50 Midcoast Money Voucher valid at most of our downtown restaurants to enjoy a fabulous dinner in town;
A "Personal Pie" just for you and placed in your room at Turndown service (please mention preferences at time of booking – apple, cherry, raspberry, or blueberry );
A commemorative copy of the 2015 Pies on Parade Poster.
One-night packages at the Berry Manor Inn (available on Sunday, 1/25/15 only) will range from $215 to $260 (single or double occupancy) and include:
Two tickets to the Inn-to-Inn Pie Tour;
Fabulous accommodations in one of our AAA Four Diamond rated rooms;
A "Personal Pie" baked just for you and placed in your room at Turndown service (please mention preferences at time of booking – apple, cherry, raspberry or blueberry);
A commemorative copy of the 2015 Pies on Parade Poster
Image used with permission © PJ Walter