Valentine's Day Special – February is for Lovers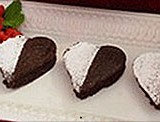 Valentine's Day Packages on the Coast of Maine 2014

Available: Any night in the month of February
Enjoy a romantic getaway to the Berry Manor Inn any night in the month of February 2014 for $350 and receive:
An overnight stay in a beautifully appointed king-sized bed (many with canopies), a fireplace, sitting area, and a private luxury bath with whirlpool tub (available with rooms: #1,3,5);
A dozen long stemmed red roses arranged in a vase;
A box of homemade chocolates from our local chocolatier;
A bottle of sparkling beverage and rose petals at turn-down service.
Add $15 or just $365 per night for one of our ultimately luxurious king carriage house rooms (room #9,11 or #12) which feature a private bath with an oversized whirlpool tub for two and a separate custom two-person walk-in shower with body jets! Enjoy ultimate romance with our Valentine's Day packages.  Hurry because we fill up fast!
Note: There is a 2 night minimum on rooms with whirlpool tubs and fireplaces for Saturday, February 15th, 2014 in celebration of Valentine's Day.
Rooms #1, 3, 5: $350       Deluxe King rooms in main house with whirlpool tub and fireplace
Rooms #9, 11, 12: $365   Premium King rooms in carriage house with oversized double whirlpool tub, body jet shower
and fireplace
Rooms #4, 6: $325            Deluxe Queen rooms with whirlpool tub and fireplace
Rooms #7, 8: $295            Classic Queen rooms with whirlpool tub and fireplace
Additional discounts or 3rd party gift cards are not eligible with package. Package is subject to prevailing lodging tax and subject to the inn's normal policies including a ten day cancellation policy.