There are so many reasons to visit Rockland, Maine, in addition to our relaxing and luxurious Maine B&B. If you'd like some inspiration for your next getaway, here's our Insider's Guide to the Maine Coast – Best of Food. Read on for some recommendations and information on the best food in Maine.
Flavorful Foodie Fare in Maine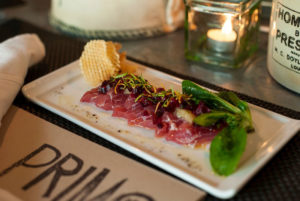 Rockland is recognized as one of the top foodie communities in Maine. According to Huffington Post, this area of Midcoast Maine has one of the highest ratios of restaurant seats per capita. There are over 40 restaurants, food trucks, cafes, tasting rooms, brew pubs and candy makers in the downtown district of Rockland alone. We have it all – Italian, Sushi, American, seafood, lobster, Mexican, Thai, Southwest, pub fare, Chinese, etc. Getting to know your local farmers and fisherman was practiced in Maine well before it was a national trend. Restaurants here source food locally so you can enjoy a true farm to table experience. Here are some of our top picks:
Primo Restaurant located in Rockland Maine has the only chef to be twice named a James Beard Regional Award winner.
Suzuki Sushi has been nominated twice for a James Beard Regional Award.
As the self-proclaimed Lobster Capital of the World, there are several casual seafood places in town and around the area where you can enjoy freshly-caught Maine lobster right from the ocean. Besides the whole lobster, you can find lobster on the menu as lobster bites, lobster mac 'n cheese, lobster 

BLT

, lobster melt, lobster chowder, lazy lobster, lobster with pasta, lobster stuffed haddock, lobster sliders, lobster salad, lobster rolls and more. Lobster or Lobsta – we have it all!
This area also boasts several wineries, breweries and even distilleries, all within a short drive. Here are a few that you won't want to miss:
Enjoy an olive oil tasting at FIORE Artisan Oils and Balsamic Vinegars. They offer our guests a special gift for visiting. You will be amazed at what you have been missing once you taste a high quality olive oil.
Bixby Bars is a small local award-winning manufacturer of organic and gluten-free chocolate and power bars and offers a tasting room and tour.
Can't decide on just one? Maine Foodie Tours operate guided tours during the summer season that encompass many of the local highlights
Bountiful Maine Breakfasts

Of course, our own sumptuous breakfasts are second to none! Enjoy a multi-course breakfast each morning of your stay with us that includes items such as Poached Pears with Yogurt Sauce, Raspberry Stuffed French Toast, Lemon Poppyseed Cake, Baked Eggs with Tomatoes & Basil, Red New Potatoes with Dill or Maine Blueberry Sour Cream Coffee Cake.
Book your foodie getaway today!
Book Now