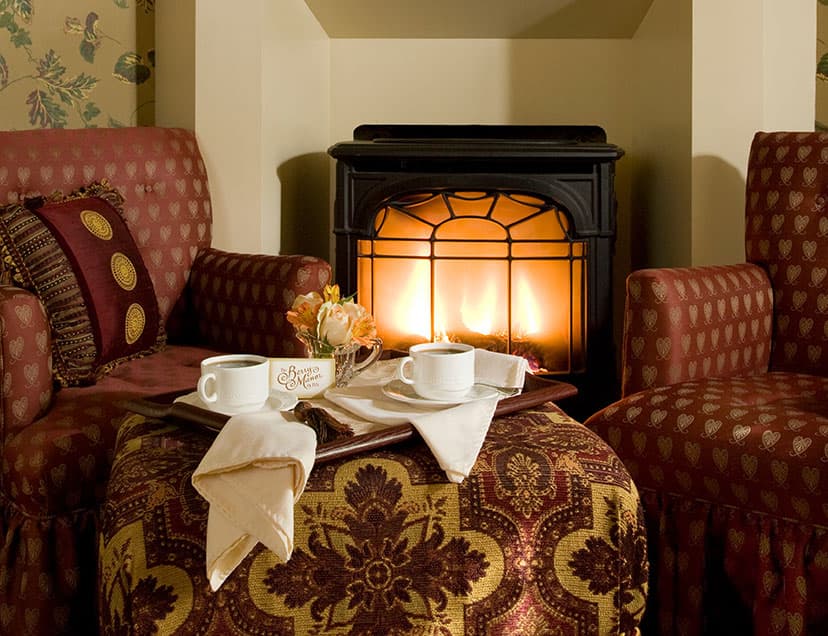 If you're not a snow bunny, there are still plenty of ways to find warm winter fun in Rockland Maine. There's no denying that winter has arrived. And with it, cold temps and harsh winds. Sure, there's a layer of fresh fallen snow covering the landscape. But no one said you have to go outside to enjoy winter in Maine. Escape to the warmth and comfort at the Berry Manor Inn. We offer all kinds of amenities to keep the cold at bay.
There's no harm in staying indoors on a cold winter's day. Wrap yourself up in a soft fleece blanket. Cozy up to the fireplace. Turn on some soothing music. Grab a book. Or indulge in a romantic comedy on your DVR. With fireplaces in every room, and tempting pie in the pantry, you won't have to wander far to find solace from the chilly temps outside
But, if you're feeling even the teensy, weensiest pang of guilt for being a couch potato, you have options for winter fun indoors, too. Rockland, affectionately known as the heart of Maine's art culture, brims with unique and interesting museums. From the fairly new Center for Contemporary Art to the quirky Puffin Project Center on Main Street, you'll find plenty of ways to stay warm inside and get a little culture at the same time.
So, let's break this down for you. Here's the inside scoop on what to expect when visiting Rockland, Maine's museum scene.
This multi-building complex on Main Street packs a punch with 3 generations of Wyeth's represented, along with a celebrated collection of American artists. Exhibitions change frequently, so there is always something new to admire at the museum. Plus, the museum store is a destination in itself. With art supplies, books, games, puzzles, jewelry, prints, posters and more, you'll likely find a treasure to bring home with you.
Now housed in a stunning glass structure on Winter Street, CMCA features the work of local Maine artists and those with a Maine connection. Spending time in any of the 3 sunlit galleries offers an opportunity to appreciate cutting edge and experimental art created by living artists.
Though not technically in Rockland, the Owls head Transportation Museum is, pardon the pun, a hoot. The vast collection of antique transportation modes inspires a trip back in time. Exhibits include bicycles, carriages, motorcycles, aircraft, vintage automobiles and more. Of particular interest is the "Fads and Failures" exhibit, featuring oddities destined for extinction.
Located close to the waterfront, the collection of artifacts in this museum fascinates. Anyone interested in the science and history of lighthouses, lighthouse keepers, and lifesaving services and equipment will be astounded by the collection gathered here.
This exhibition lays tribute to the successful reintroduction of puffins to the coast of Maine. The visitor's center in downtown Rockland is a must-see for anyone captivated by these colorfully-beaked birds. With support from the Audubon society, the Puffin Project is a reminder of how fragile our eco-system truly is.
No doubt, winter can be cruel. But for those with a zest for adventure, a winter escape to the coast of Maine can be just what the doctor ordered. Here, at the Berry Manor Inn, you can warm your feet by the fire before venturing outside in the cold. We'll leave a light on for you and pie and ice cream in the pantry.
December 2020