Directions to Berry Manor Inn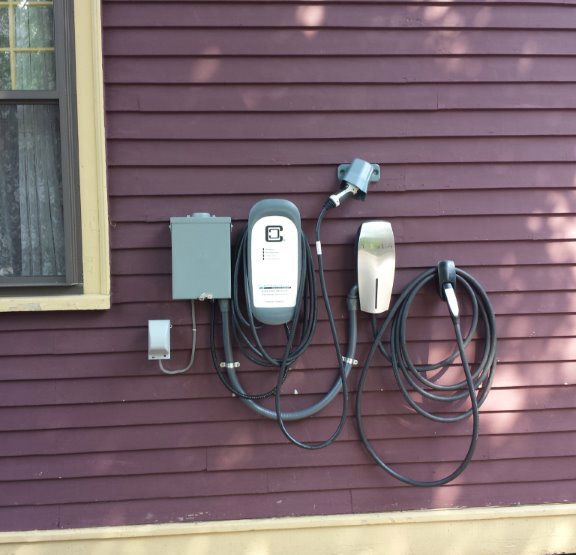 The Berry Manor Inn is just blocks from downtown Rockland, the geographic center of mid-coast Maine, in a quiet residential neighborhood. We're ideally situated to be your home away from home and are easily accessible by public or private transportation. When searching for a romantic Rockland or Camden B&B, our Rockland, Maine bed and breakfast is the perfect choice.
Our Tesla and Clipper Creek electric car chargers allow you to charge a Tesla Model S and other electric cars right here at Berry Manor Inn.
Directions to the Berry Manor Inn from the South
Follow Rte. 95 North into Maine to Exit 44 (Rte. 295 North) near Portland. Continue on Rte. 295 North for ~30 miles to Exit 28 – Brunswick/Bath – Coastal Rte. 1 North. Rte. 1 runs parallel to Rte. 95 the entire coast of Maine so don't get confused or impatient and take an earlier exit. Follow Rte. 1 North for ~ 60 miles into Rockland. Once you are in Rockland take a left at the first traffic light onto Broadway (Alternate Rte. 1). The First National Bank of Damariscotta and the brick Fire Station will be on the right and Park Street Laundromat and Stella Maris Apartments will be on the left. Follow Broadway ~ 3 blocks to another traffic light at the intersection with Limerock Street. Go straight through the light and start counting streets. Talbot Avenue will be the fourth road on the right after this light (immediately after Summer Street). Take a right onto Talbot Avenue and the Berry Manor Inn will be the 2nd house on the left #81 (burgundy and gold)..
Directions the Berry Manor Inn from the North
Follow Rte. 1 South into downtown Rockland area where Rte. 1 will split into two parallel one-way streets (Main Street and Union Street) one block apart. At the split, follow the signage for Rte. 1 South and bear right than left around the Rockland Savings Bank. You will want to get into the right hand lane after the split and take the third road on the right – Talbot Avenue. From this direction the street sign is difficult to see so look for a large blue sign for the State Ferry Terminal to Vinalhaven on the left side of the road marking Talbot Avenue. Take a RIGHT onto Talbot at this sign and the inn will be approximately 1.5 blocks on the right away from the water.
Directions to the Berry Manor Inn from the West
Take Rte. 17 East from Augusta and follow it approximately 60 miles into Rockland. You will go straight through the light at the intersection of Rt. 90, straight through the following light at the intersection with Old County Road to the flashing light at the intersection with Birch Street near Kalloch/Webber Fuel and EBS Hardware. Take a right at this light. This road will turn into Broadway. Continue to follow Broadway (also Alt. Rte. 1A) through the next two lights (intersections of Cedar and Rankin Streets). After light at Rankin Street, start counting streets and Talbot Avenue will be the fourth road on your left after the light (immediately after Granite Street). Take a left onto Talbot Avenue and the inn will be the second house on the left, #81. It is burgundy and gold.
Transportation: Airports, Trains, Busses, Taxis & Rental Cars
The closest airports to Rockland Maine are as follows:
Knox County Regional Airport (RKD) – 5 miles from inn Small regional airport serviced 3 to 5 times daily by Cape Air from Boston. Affiliated with Jet Blue.
Round trip fares from Boston start at about $114
Rental Cars: Budget 207-594-0822 800-527-0700
Portland International Jetport (PWM) – 80 miles 1.5 hrs from inn
Medium sized airport. Easy to Navigate.
Airlines: www.portlandjetport.org/airlines
Rental Cars: www.portlandjetport.org/Ground_Transportation
Bangor International Airport (BGR) – 65 miles 2 hrs from inn
Medium sized Airport. This can sometimes be a difficult drive to Rockland as you are on less traveled roads without a lot of street lights or signage.
General Info: www.flybangor.com
Concord Trailways Bus Service
800-639-3317 Service from Boston to Rockland twice daily. Terminal is located at the end of Talbot Avenue about 2.5 blocks from the inn.
Taxi/Driver Services with Airport Service
Hit the Road Driver Service  207-691-0295
Midcoast Limo  207-236-2424
Schooner Bay Taxi  207-594-5000
Joe's Taxi  207-975-3560
Rental Cars
Budget Rental (Knox Airport)  207-594-0822/800-527-0700
Enterprise  207-594-9093 or 800-325-8007
U-Save Auto Rental  207-594-2268 or 800-272-8728
Train
As of 10/31/15, the Maine Eastern Railroad will no longer be running a round trip excursion trip between Brunswick and Rockland.  Stay tuned for an update on a train connection to the Amtrak DownEaster train in Brunswick, Maine. You can get close to here on the train but will need transportation from Brunswick to Rockland which is about 54 miles.