GroundHog Day Package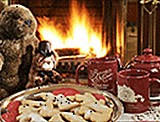 Available:  February 1st, 2018
Groundhog Day is an underappreciated holiday that is cherished here at the Berry Manor Inn as the day the Berry Manor innkeepers, Cheryl and Mike, were engaged to be married. Spend a wonderful night at the inn enjoying groundhog lore and watching the movie "Groundhog Day".  For 2018, Rockland's own W. Chuck (woodchuck) Berry (the highly trained disciple of the all great weather prognosticator, Punxsutawney Phil) will make his own prediction for Maine's winter season with our local elementary school students on Friday, February 2nd (weather permitting).  Start your own romantic Groundhog's Day tradition with us at the Berry Manor Inn.
Come to Berry Manor Inn on Monday, February 1st to be here for the official Groundhog Day celebration on Tuesday, February 2nd and be treated to:
Overnight accommodations in Midcoast Maine's only AAA Four-Diamond rated historic bed and breakfast inn and home to W. Chuck Berry, Maine's largest groundhog;
Enjoy an exclusive showing of the movie Groundhog Day, complete with cider, popcorn and warm groundhog shaped cookies in the evening;
Enjoy the official "wakening" of W. Chuck Berry with 100 of Rockland's local kindergarten and first graders held at the Berry Manor Inn;
Remember the day with your keepsake Groundhog TY Beanie Baby®;
Test your knowledge of Groundhog Trivia at Breakfast;
Indulge in Groundhog candy made by our local chocolatier.
Special packages for the biggest Groundhog Day celebration in Maine start at $160 and will depend on room selection.
Package must be booked in advance and cannot be combined with any other discounts or specials. Prevailing lodging taxes not included. Subject to Inn's normal policies including 10-day cancellation policy. Rates subject to change without notice.