Sleep with a Ghost on the Coast Halloween Package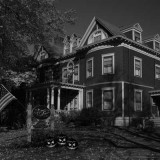 Sleep with a Ghost on the Coast – Halloween Package
Available: October 26th or 27th, 2018
For those with a sense of humor and in search of spirited Halloween getaways and "bootiful" inns, the Berry Manor Inn can oblige with a package that virtually guarantees guests will sleep with a ghost! Stay at the inn and you'll be in for a hauntingly good time. Each package includes a night shirt with one side displaying a ghost and the other proudly asserting "I slept with a Ghost on the Coast of Maine". Unless you choose not to wear the night shirt, guests can claim with virtual certainty that they've slept with a ghost in Maine! Knowing that man is not entertained by ghosts alone fell free to partake in many other community Halloween activities during the weekend which vary annually but often include local haunted houses, "Fright at the Fort" at Fort Knox (considered to be the scariest Halloween tour in Maine) 0r local haunted history tours. Package includes:
One night lodging
Breakfast for two the next morning – Trick or Treat
$50 in Midcoast Money to enjoy a "ghoulish" dinner at your choice of many local restaurants
Ghosts on the Coast of Maine – a compilation of ghost stories from Midcoast Maine to read to each other by flashlight
A nightshirt inscribed with a picture of a ghost and "I Slept with a Ghost on the Coast of Maine" across the back
Tricks and treats at turndown.
Package is offered 10/27 or 10/28 for $95 plus room rate.
NOTE:  This is intended to be a lighthearted package to celebrate the spirit of Halloween. There is no known reporting of ghost activities at the inn.
Package must be booked at time of reservation and cannot be combined with other discounts or special offers. Prevailing Maine State lodging tax will apply and is not included in package cost. Room rates subject to change without notice.