Savor the Summer Maine Adventure Package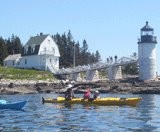 Explore Maine adventures along Maine's Midcoast
Offered:  June 14th – October 12th, 2019 (not available Blues Festival or Lobster Festival)  Any 3 consecutive nights based on Availability
If you're looking for the perfect Maine adventure this summer, book this package to take advantage of special discounts and exclusive outdoor Maine adventures combined with a wonderful coastal Maine getaway.
The Savor the Summer Maine Adventure Package offers the ideal itinerary for outdoor Maine adventure, coastal exploration, and some hard core fun.  Come learn why Rockland was named among the top outdoor Maine adventure towns in the country by National Geographic Traveler Magazine.  This three-night package combines fun on land and sea along with self-guided lighthouse tours,  and a collection of value offers worth more than $150 in savings with luxury accommodations with your choice of room at the Berry Manor Inn.
The Savor the Summer Maine Adventure Package, is offered from June 14th, 2019 through October 12th, 2019  and includes specially discounted admissions to a host of Maine adventures for everyone from golfers, to kayakers, sailors and even fly fishermen (and women!).  Add box lunches, dinners at restaurants offering locally-sourced cuisine, lighthouse and self-wine tours to the mix and you've got the perfect three day itinerary for exploring the Maine adventures of the Rockland-Camden area.
The Savor the Summer Maine Adventure Package includes:
Three wonderful nights in the room of your choice which may include a
fireplace, soaking tub, whirlpool tub for two and/or body jet showers to take away the aches and pains of the day's activities;
Three delicious and filling breakfasts to give you the energy to enjoy
the day;
Two box lunches to enjoy on one day;
Two locally made organic Bixby Bars;
A self-guided itinerary and map of the area's local Lighthouses to enjoy at your own pace;
A Maine Wine Guild map to explore the five Midcoast wineries;
A $50 Midcoast Money voucher to enjoy dinner at your choice of participating restaurants in the Rockland Camden area;
A drawstring backpack filled with a collection of value offers for savings exclusive to guests of the Berry Manor Inn and the other Historic Inns of Rockland from Rockland and Camden area restaurants (offering free apps, desserts or special offers), stores (offering 10% discounts), spas (offering 10% discounts) and attractions (offering discounted or half price tickets). The value collection represents more than $150 in savings.
Packages start at range from $585 per couple (plus ME tax) and do not include your choice of specific Maine adventures. Prices will vary by date and room selection and may not be available during specific holidays and festival periods.
The Berry Manor Inn with the Historic Inns of Rockland has negotiated specially priced admissions and outdoor adventures for our guests taking advantage of the Savor the Adventure package.  While not included in the package price, your innkeeper will reserve specially priced activities for you. Please note that discounted admissions are based upon advance reservations; guests must indicate their interest in participating in activities when they book.  A partial list of the many specially-priced Maine adventures available through this package includes:
Captain Jack's Lobster Adventure cruises
Bufflehead Sailing Charters including  Lobster Bake on an Island
Schooner Heron Day sails
Schooner Olad Day sails
Monhegan Boat Lines Ferry to Monhegan/Puffin Tour/Nature Cruise/Lighthouse Tours
Port Clyde Kayaks and Paddle Boards
McLoon's Lobster Pound Tour and lobster shore dinner too!
Rockland Golf Club (18 holes)
Samoset Golf Club (18 holes with cart)
Maine Coast Botanical Gardens
Round Trip Excursion Trip on Vinalhaven Ferry (pedestrian)
Rheal Day Spa
Skin Klinic Day Spa
At the end of a long, adventure-filled day, plan to return to your luxuriously appointed room and experience our unprecedented comfort and hospitality – without the pretense!  Indulge in a whirlpool tub for two or drive away those aches with one of our body jet showers! We offer the kinds of amenities plugged in travelers seek from complimentary Wi-Fi access to guest computers, lavish private baths many with over-sized whirlpool tubs for two or body jet showers, air conditioning and in-room fireplaces within a homey, comfortable atmosphere. Sleep well in our comfortable beds, indulge in a piece of homemade pie and start anew the next morning with a sumptuous hand-crafted breakfast for two.
This package cannot be combined with any other specials or discounts and is subject to the inn's normal policies including a 14-day cancellation policy. Prevailing Maine State lodging tax rate will apply. Room nights must be consecutive and in the same room unless room change is approved by inn. Room rates are subject to change without notice.
Image used with permission © Port Clyde Kayaks