Eco-Lobster Adventure with Captain Jacks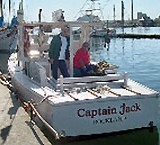 Take a trip on an authentic downeast lobster boat for a 1.25 hour cruise, learn the life of a local lobsterman and help catch your lobster lunch!
You can help pull traps or just sit back and watch as you learn how to tell a male from a female lobster, the difference between hard shell and soft shell lobsters and anything else you always wanted to know about Maine's favorite crustacean! You will see several lighthouses and enjoy the sounds of herring gulls, terns and osprey. You can even purchase lobsters you helped to catch at boat prices and enjoy a lobster lunch right off the dock!
Add $75 to your room rate and get two tickets on Captain Jack's and two whimsical lobster hats to make you smile!