Real Maine Lobster Package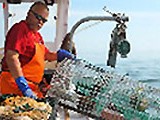 Want an authentic Maine Lobster experience?
If you love lobsters and want to walk in the boots of a lobsterman for a day than the Berry Manor Inn has an exclusive lobster experience that you will not get any where else! Learn all about Maine's favorite crustacean from the "trap to your lap" in Rockland Maine, the self-proclaimed "Lobster Capital of the World".  Rockland is home to the Maine Lobster Festival (August); Lobsterpalooza (September); the original Lobster Trap Christmas Tree featured on the TLC Channel; and where the first lobster roll was actually invented. This exclusive package is available July through September, Monday through Friday with a 2-night stay.
Start your day going out with a real Maine Lobsterman aboard the Capt. Jack lobster boat and learn all about setting traps, the rules of lobstering, the difference between soft and hard shelled lobsters, male and female lobsters and what's with all of those different colored buoys! You can sit back and watch or if you choose you can get down and dirty and help the Captain set the traps.  After the boat trip you will head to one of the area's oldest working lobster pounds where we have set up an exclusive behind the scene tour for our guests. You will shadow the wharf manager who helps the lobstermen unload the boats, sorts and stores the lobsters to be shipped to Boston and will answer all of your questions about bait choices and how they prepare those newly caught lobsters for market. End your afternoon by enjoying a freshly caught lobster dinner with all of the fixings right at a picnic table on the wharf next door. This is an exclusive opportunity for our guests for a "lobster immersion" and is only available Monday through Friday with advanced reservations.
A Real Maine Lobster Luxury Package added to your 2-night stay in the room of your choice includes:
Two tickets for Capt. Jack's Lobster Adventure cruise
Two "Got Lobstah" t-shirts to commemorate the day
Two tickets to a behind the scenes exclusive tour of a working lobster pound
Lobster Meal for two at picnic tables on the dock
Souvenir stuffed lobster to take home with you to remind you of the lobster fun you had!
Want more lobster??
Ask your innkeeper to make reservations or give you directions to the local restaurants in town that serve up lobsters, lobster rolls, lobster salads, lobster BLTs, lobster pops, etc.. Sample for yourself how you prefer your fresh Maine lobster!  Don't forget to take pictures of your lobster fantasy day and post it to our Facebook page or on Instagram (#berrymanorinn)!
This exclusive package when added to your 2-night stay is $199 for two people. Advanced notice is required.
Package is only available with a 2-night stay and is offered Monday through Fridays only for the months of July through September.   Reservation is subject to the inn's normal minimum night stay and cancellations policies. Rates will vary based on reservation date and specific room choice.  Applicable taxes not included in package price. Package must be booked in advance and cannot be combined with any other discounts or other promotional offers.  Components of this package are contingent on the weather. If there is inclement weather that postpones, changes or cancels the boat trip we will work to reschedule accordingly or refund the item accordingly.