Savor the Summer Arts of Midcoast Maine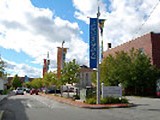 SAVOR THE ARTS ON MAINE'S MIDCOAST
Explore Farnsworth Art Museum and 3 other local museums, and renowned and local artists
Available: June 14th-October 12th, 2019 (except holidays and festival periods) 
The Savor the Summer Arts of Maine's Midcoast package allows you to enjoy Rockland's vibrant art scene considered to be the Art Center of Maine.  This package combines lighthouse tours, museum tickets and gallery tours, matted photos from local artists, and dinner on the town; with luxury accommodations.
Plan to spend three days at signature museums including the Farnsworth Art Museum and Wyeth Center and three nights relaxing enjoying the comfortable luxury of the Berry Manor Inn.  Add in lighthouse and gallery tours, great restaurants, gifts from local photographers and a collection of offers valued at more than $220, and you have got one perfect package for exploring the arts in Maine's Midcoast.
The Savor the Arts In-Summer package includes:
Three wonderful nights in the room of your choice which may include a fireplace, soaking tub, whirlpool tub for two and/or body jet showers;
Three delicious and filling breakfasts to give you the energy to enjoy the day;
Two tickets to each of the following museums: Farnsworth Art Museum and Wyeth Center and Olson House,  Center for Maine Contemporary Arts, Maine Lighthouse Museum, and the Owl's Head Transportation Museum;
A self-guided itinerary and map of the area's local Lighthouses to enjoy at your own pace;
A self-guided gallery map and itinerary for the Rockland Camden area's art galleries;
A Maine Wine Guild map to explore the five Midcoast wineries;
A $50 Midcoast Money voucher to enjoy dinner at your choice of participating restaurants in the Rockland Camden area;
Two matted photos suitable for framing of quintessential Midcoast Maine scenes offered by local photographers;
A special folder with a collection of value offers for savings exclusive to guests of the Berry Manor Inn and the other Historic Inns of Rockland from Rockland and Camden area restaurants (offering free apps, desserts or special offers), stores (offering 10% discounts), spas (offering 10% discounts) and attractions (offering discounted or half price tickets). The value collection represents more than $220 in savings.
Packages start at $666 per couple (excluding ME tax), are available for any three nights from June 14th through October 12th, 2019.  The price of the package will vary by date and room selection.  Please note the package may not be available during Holidays and festival weeks.
At the end of a culture-filled day, plan to return to your luxuriously appointed room and experience our unprecedented comfort and hospitality – without the pretense!  We offer the kinds of amenities plugged in travelers seek from complimentary WiFi access to guest computers, lavish private baths many with over-sized whirlpool tubs for two or body jet showers, air conditioning and in-room fireplaces within a homey, comfortable atmosphere. Sleep well in our comfortable beds, indulge in a piece of homemade pie and start anew the next morning with a sumptuous hand-crafted breakfast for two.
If you're looking for a package combining arts and culture with a wonderful coastal Maine getaway, this one's for you. 
This package cannot be combined with any other specials or discounts and is subject to the inn's normal policies including a 10-day cancellation policy. Prevailing Maine State lodging tax rate will apply. Room nights must be consecutive and in the same room unless room change is approved by inn. Rates subject to change without notice.