Nature Tour & Puffin Cruise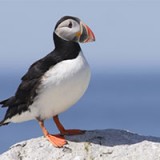 Take a 2.5 hour narrated cruise from Port Clyde (mid-June through mid-August) with Monhegan Boat Line.
You will enjoy scenic views of the Fox Island Channel, see several lighthouses from the water's edge and enjoy the sights of seals, harbor porpoises, arctic and roseate terns, black guillemots, osprey, colorful puffins, eagles and many more of natures maritime creatures. Stop in at the Audubon Society's "Project Puffin Center" before or after the cruise to learn about the efforts to save the puffin colonies.
Ask your innkeeper to make reservations for a Nature and Puffin Cruise and enjoy a discounted fare and free parking.