Why Book your Vacation at a Maine Bed and Breakfast versus a Non-permitted Vacation Rental?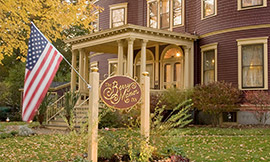 There is something to be said about living like a local while on vacation. Staying in a bed and breakfast with locals that know the ins and outs of the area assures the best Maine vacation possible. Not only do we offer comfortable but elegant accommodations with the modern amenities that today's travelers expect but you get a real people on site to assist you with dinner reservations and other activities. Find out more about how staying in a Maine bed and breakfast reigns supreme from just a non-owner occupied, empty vacation rental.
We are owner occupied and owner operated. Rockland and the inn is our year round home so we know all of its hidden treasures and love to share them with our guests. We are always available at the inn to talk to you about what you are looking to do to make your vacation the best it can be and we will do our best to help make all of your plans come true.  We do not just hand you a written guidebook, for us it is the personal touch. The only "air" at our bed and breakfast is salt!!!
Unlike other vacation rentals in the area, there is no risk of your vacation being cancelled due to non-compliance of local codes. The property is fully licensed and inspected annually by the City of Rockland and the State of Maine and is fully compliant with all applicable life safety, building, fire and food management codes.
This is our business. It is important to us that you enjoy your vacation with us because we rely on our guests to refer others to us. This is not a 2nd home or vacation rental property we just rent out to be able to use it for ourselves two weeks of the year.
Bed and Breakfasts were the original "home share" lodging properties. Why do you think that "Airbnb" included the term "BnB" in their name? Today's new generation bed and breakfasts are not your grandmother's home anymore. They offer all of the core values of a "home share" – familiar and homey accommodations not cookie cutter like a hotel; knowledgeable owners that help you discover the hidden treasures of their hometowns and reasonable rates without nickel and diming you for add on services (generally free parking, Wi-Fi, Breakfast, Snacks, etc.).
In many cities across the country and here in mid-coast Maine, all of the Bed and Breakfasts are licensed, inspected and must meet specific requirements for guest security and life safety. This is not true of all short term vacation rentals on the market today.
In the US, we think that all lodging properties are inspected to meet certain minimum life safety standards. As travelers, we are not used to asking if a property has working hard wired smoke detectors or if it has a sprinkler system. We simply expect that if you are renting rooms to the public for money than you are obligated to be licensed and inspected.

The rental of a single family residence as a vacation lodging property is a fairly new phenomenon in this country.
The National Fire Protection Codes (NFPA 101) dictate at the Federal level the required life safety codes that must be met for different types of properties.
Current NFPA 101codes do not specifically address the requirements for a single family residence when it is rented as a lodging property.
Because of this gray area, many States and municipalities just require a single family structure to only meet the codes that you and I must meet in our own homes rather than the more stricter codes required when strangers are sleeping in lodging properties that they are not familiar with.
Besides not inspecting or requiring basic life safety codes are in place, some municipalities are not even inspecting these types of properties to ensure they meet basic building, electrical, or plumbing codes.
Throughout the country and currently within the local area many single family home vacation rentals are not held to the same high standards for life safety codes as a licensed lodging property like us. They may or may not have hard wired smoke detectors, carbon monoxide monitors, or meet the stated codes for stairways, egress and 2nd means of escape.

Our property is in full compliance with our local zoning laws. We have been vetted by the City and are inspected annually with our annual license renewal. We are an improved lodging property for the neighborhood. This property is our permanent and primary home; the people that live around us are our neighbors. We are good neighbors and work to ensure that our business activities are not disruptive to the neighbors or neighborhood. What does this mean to you? It means that when you book your vacation with us you do not need to worry that the City is going to close down the property and you will be without a place to stay.
Security and guest safety are paramount to us. Again, we are owners and operators of a legitimate lodging property. We want our guests to be safe and secure.
If there is any type of emergency that occurs during your stay with us you will be able to reach the owners immediately. We live on premise, we tell you how to reach us after the office closes and point out where we reside.
The property is fully inspected by 3rd parties for certification by the City of Rockland, the State of Maine, AAA, Select Registry and the Diamond Collection of bedandbreakfast.com so you can be assured of a high standard of cleanliness; quality of furnishings and appointments; and that all fire and life safety standards are met.
We are here to greet you at check in and to show you around your home away from home. You get the personal touch to make sure all of your questions are answered. We will help you to live your vacation like a local!