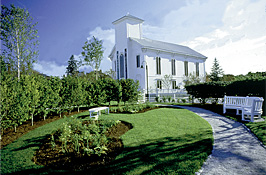 History, art and culture abound year round in the Rockland and Camden area of Midcoast Maine with the renowned Farnsworth Art Museum, the Center for Maine Contemporary Art and twenty plus art galleries located in the downtown Rockland area alone. Rockland is also home to the nation's largest lighthouse museum, a professional theater group, and the newly renovated historic Strand Theater.  The Midcoast area surrounding our Rockland, Maine bed and breakfast also boasts a fabulous antique car and plane museum, a toy museum and a concert series featuring classical, chamber and world music ensembles. First Friday Night Art Walks take place in downtown Rockland, June through October and the Farnsworth offers docent led tours to introduce their collection Tuesdays and Thursday afternoons with extended hours on Wednesday nights. We invite you to discover the many fantastic Midcoast Maine museums near our inn, and so much more!   Ask about special tours and events to celebrate the 100th anniversary of Andrew Wyeth's birth being held throughout 2017.
Farnsworth Art Museum
16 Museum Street, Rockland The Farnsworth Art Museum and Wyeth Center offers a nationally recognized collection of American Art including the second largest collection of Wyeth family paintings and an extensive collection of Louis Nevelson sculpture. The Olson House and the Farnsworth Homestead are open seasonally from June through mid-October. The Farnsworth is open year round – hours vary by time of year.
Owls Head Transportation Museum
117 Museum Street, Owls Head The Owls Head Transportation Museum has one of the finest collections of pioneer-era aircraft and antique automobiles in the world. The museums' permanent collection includes bicycles, engines, carriages, motorcycles, vintage airplanes and more antique automobiles and trucks than they can display at any one time. Throughout the year they hold special events including vintage car rallies, biplane rides, and antique airplane shows. The museum is open every day, all  year round from 10-5 and is really not to be missed.
Maine Lighthouse Museum
One Park Drive, Rockland The Maine Lighthouse Museum houses the largest and most significant collection of lighthouse lenses and artifacts in the United States. They offer many interactive displays and the entire range of rare Fresnel lenses. Several of the volunteers are actual children of lighthouse keepers! Open seven days in the summer and generally Thursday – Saturday March – May.
Maine Contemporary Art Center
Recently moved to 21 Winter Street in Rockland to a gorgeous new facility. The Maine Contemporary Art Center is now open year round.  In Locals season open Wednesday through Sunday and in the summer season just closed Monday.  They do not have permanent exhibits but rather show temporary exhibitions that are curated or juried that focus on Contemporary Art of all media by both emerging and well-established Maine artists.
Montpelier – General Knox Museum
30 High Street, Thomaston General Henry Knox served as the country's first Secretary of War under President Washington. Enjoy a guided tour back to the Revolutionary War days and learn about this true American hero. Open seasonally Memorial Day through Columbus Day weekend; open Thursday, Fridays and summer holiday weekends with special events. 10-4pm. Guided tours available.
Penobscot Marine Museum
5 Church Street, Searsport Learn about Maine's maritime history through ship models, paintings and photographs at the state's oldest maritime museum. Open Daily Memorial Day Weekend – 3rd Week October.
Sail, Power and Steam Museum
75 Mechanic Streets, Rockland The Sail, Power and Steam Museum celebrates Rockland's role in shipbuilding. The museum houses interesting displays, models and photographs of the shipbuilding industry. It also has a working lime kiln on premise and is home to the Coastal Children's Museum. Open May through November Wednesday through Sunday 10-4pm.
Fawcett's Antique Toy Museum
3506 Atlantic Hgw (Rt 1), Waldoboro Fawcett's Antique Toy Museum has a world class display of antique toys of all kinds including Disneyana, western heroes, and WWII propaganda toys, Popeye, Snow White, Betty Boop and Felix the Cat. Open Memorial Day to Columbus Day 10-4 (closed Tuesday & Wednesdays) and Columbus Day to Christmas Saturdays and Sundays 12-4pm.  Will open by appointment for private tour at $50pp.
National Oz Museum – Center for Literature & Illustration Camden
Still waiting…..Opening maybe in late 2017 or early 2018, the Camden/Rockland area of midcoast Maine will be home to the National Oz Museum.  The 5000 square foot museum will display the world's largest collection of Oz memorabilia, toys, print, books, costumes and movie props. Stay tuned.
Bay Chamber Concerts
Ever-changing performing arts series includes world renowned performers of classical, jazz, world music, baroque and dance. Year round performances held at various venues around the area. Tickets and schedule available on-line.
Strand Theatre
345 Main Street, Rockland The newly renovated historic Strand Theatre in downtown Rockland is a multi-use venue offering the best of current independent, foreign and main stream film; live concerts and musical performances; and live HD broadcasts of The Metropolitan Opera, London National Theatre, Broadway and American Ballet; and other special events. Balcony offers beer and wine and evening performances. Check the website for monthly schedule of events and to buy tickets on-line.
Everyman's Repertory Theatre
Various Venues Established in 2008, the Everyman's Repertory Theatre is Midcoast Maine's only professional theatre group. To check out schedule for upcoming productions or readings throughout the year go to their website.
There are over twenty art galleries in downtown Rockland alone. The galleries are ever changing with both works of arts and hours. Most of Rockland's downtown galleries participate in First Friday Art Walks from 5-8pm May through October. Click here for a partial list and map of Art Galleries in the area (attach a PDF file).
Artisans and Craftsman
Maine's Midcoast area is blessed with many very talented craftspeople from furniture and cabinet makers to potters and blanket weavers. Many of the smaller studios have open studio hours throughout the year by chance or by appointment so call ahead if interested.
Art Shows & Tours
"Arts and Artisans Open Studio Weekend Tour"
Specific weekend event is usually scheduled around the 2nd weekend in September when all studios will be open and doing demonstrations. Other times of year, different studios are open on different days and for different times.  The handout offers a nice map and description to many of the studios in the area.
Harbor Arts Juried Arts and Crafts Show
Summer Show: July 15-16, 2017
Show features over 100 artists and craftsmen that display and sell their work in booths that overlook the beautiful Camden harbor. 
The Apprenticeshop
643 Main Street, Rockland
The Apprenticeshop is one of the oldest traditional wooden boat building schools in the country today. You can visit the shop to see the work in progress, or attend a community lectures or take sailing lessons.
Center for Fine Furniture Craftmanship
25 Mill Street, Rockport
The Center for Fine Furniture Craftmanship is an accredited school dedicated to teaching the craft of building all aspects of fine furniture. The school itself offers 2 weeks to nine month intensives. The Messler Gallery is the showroom associated with the school and has on display some of the examples of fine furniture built by many of its students. The Gallery is open Monday – Friday 9-5 and Saturday 1-4pm.
Windsor Chairmakers
2596 Atlantic Highway, Lincolnville
This quintessential Yankee workshop makes fine furniture utilizing hand tools of old for the majority of the work. Each piece is handcrafted. The old barn is both the workshop and the showroom where you are invited to watch the crew at their craft. Although known for their Windsor chair the shop also makes, beds, dining room tables, desks and other custom pieces. The schedule varies with the season: Nov – June Mon – Sat 10am – 4pm; July – Oct Mon – Sun 10am – 5pm
Swan's Island Blankets
231 Atlantic Highway, Northport and 2 Bayview St., Camden
Even if you are not into weaving you need to stop in and tour at Swan's Island Blankets where every blanket is handcrafted. They raise their own sheep to produce much of the wool, hand dye with organic ingredients and hand weave on specialty looms always to the highest possible standards. Their blankets are heirlooms and have been given to Heads of States of foreign countries and mentioned on Oprah! Other products include winter and summer weight blankets, throws, pillows, baby blankets and beautiful scarves. The studio and showroom in Lincolnville are open January – Memorial Day Monday-Friday 9-5; Memorial Day – October Seven days (Sunday until 4pm) and November – December Monday – Saturday 9-5. Their new store in Camden is open daily mid-May through December, 9am- 9pm. January they are open Fri. and Sat. 10am – 5pm and Sun. 12pm – 5pm.
Archipelago
386 Main Street, Rockland
The Island Institute's mission is to support island live and the this is their gallery of fine arts and crafts that represents the many people that live on Maine's islands. Merchandise includes but is not limited to original paintings, jewelry, clothing, dishware, pottery and hand-knit items. Open Tuesday – Friday 9:30-5:30 and Saturday 9:30-5pm.
Maine Artisans Collective, Inc.
Rt. 1, Lincolnville Beach Collective gallery of local Maine-made art and contemporary crafts.
Danica Candles
569 West Street, Rockport
Since 1982, Danica Candles has been on the coast of Maine producing beautiful candles as the family has done for centuries in their village of Denmark. They produce tapers, jar candles, votives, pillar candles and tea lights in many scents or unscented using a blend of beeswax and other premium waxes. Make a wonderful souvenir from Midcoast Maine. Open Monday – Friday 10-5 and Saturdays in season.
Trillium Soaps
216 South Main Street, Rockland
Trillium Soaps are handmade soaps made right here in Rockland. All of their soaps are made with organic oils. Soaps are made in small batches with no animal testing or ingredients. Visit their shop Wednesday – Saturday 10-5pm.
Playing with Fire! Glassworks & Gallery
497 Main Street, Rockland
Watch an expert glassblower in action, enjoy looking at the one of a kind works of art in the gallery or take a workshop. The state of the art studio, teaching facility and gallery are all located on Main Street Rockland.