New Year's Eve Celebration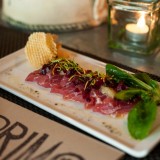 2020 New Year's Eve Celebration
with Primo Restaurant and Chef Melissa Kelly!
Looking for the perfect New Years Eve packages in Maine? Celebrate the end of the year and welcome in the New Year with a special New Year's Eve celebration package with dinner at Primo Restaurant and a wonderful overnight stay the Berry Manor Inn.
Choose any room for a two-night stay between December 30th and January 1st and let us know what time you would like dinner at Primo Restaurant.  New Year's Eve dinner at Primo Restaurant is a wonderful way to bring in the New Year. The restaurant is considered one of the best in Maine and for New Year's Eve they usually offer a 5-7 course fixed price menu (with choices). Chef Melissa Kelly's holiday fare will vary each year but it is always a gastronomical event!
The inn contracts with a local driver service to provide complimentary transportation to and from the restaurant so you don't need to worry about enjoying great food, wine and perhaps a little champagne!
As part of the New Year's weekend celebration, the inn offers a festive breakfast with complimentary mimosas and extends breakfast service until 10 am. So go ahead indulge.
New Year's Rates are in effect for December 29th through January 1st. Package requires a 2-night stay. Reserved dinner slots are limited so book early.  Dinner slots are 6,  6:30, 7:30, 8, 8:30 and 9pm. Package does NOT include the price of dinner.
Hurry and book this New Years Eve package and enjoy all that Maine has to offer.
Package cannot be combined with any other discounts.  Reservation subject to prevailing lodging tax and is subject to the inn's normal 14-day cancellation policy and other policies. Transitional rates are in effect for this holiday period. Room Rates subject to change without notice.
Image used with permission © Primo Restaurant