Primo Restaurant Maine Garden Tour & Dinner Package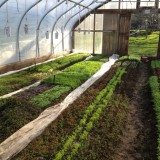 Primo Restaurant Garden Tour and Dinner Package
This package was developed for Guests of the Berry Manor Inn who love Primo Restaurant and the gastronomical delights created by Chef Melissa Kelly.
Package guests will enjoy self-guided strolls through the gardens of Primo Restaurant prior to dinner.  If we hear of any dates in 2019 for special Guided Garden tours led by the restaurant's gardener extraordinaire we will announce them on FaceBook.  With the guided tour, you learn the secrets of this fantastic, organic, sustainable garden and farmyard.  In 2015, Primo Restaurant was names as one of the top "farm to table" restaurants in the US and after touring their farm operations you will agree!
After either the guided or self-guided garden tour, guests can enjoy an early dinner with table service (please let your innkeeper know in advance so we can make reservations) or upstairs in the new tavern (no reservations needed). The menu changes daily and features multiple dishes chosen by Chef Melissa Kelly herself to highlight the bounties of the garden picked that very day. The Garden is open for self-tours between late June and the end of October.
You will leave dinner sated and with a new appreciation for the enhanced flavors garnered when a restaurant truly practices from farm to plate.
Package includes:
$50 Voucher for Dinner valid for table service (must be reserved in advance please let your innkeeper know your preferred time) or upstairs in the newly renovated Tavern
Cab Fare to and from the restaurant
An autographed copy of chef Melissa Kelly's book "Mediterranean Women Stay Slim, Too"
Self-tours are always available. Restaurant reservations are challenging at best so please allow three weeks advanced notice or be willing to dine in the Tavern.  Add $85 to your choice of a room. In season, Primo is always closed on Tuesday nights and closed additional nights May, June and October. .
Image used with permission © Primo Restaurant