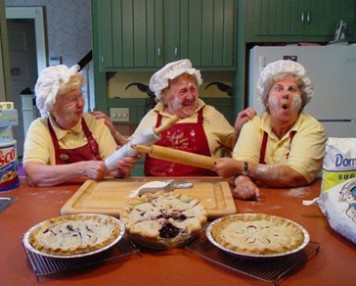 Meet the Pie Moms!
We understand that sometimes when you travel you don't always feel like having dessert at dinnertime or can't always finish your meal and want to have it later in the day.
We provide two guest pantry areas for our guests, one in the main house and one in the carriage house at our Rockland / Camden accommodations to help meet these needs. Each area has an instant hot water dispenser, glassware, china, cutlery, microwave and full refrigerator and freezer.
We stock the pantry with assorted teas, coffee, sodas, juice, ice, the "World's Best Vanilla Ice Cream" Maine-made Gifford Ice cream and of course homemade pies made by the Berry Manor Inn Moms recently featured on the Food Network and Dirty Jobs with Mike Rowe!
There is room in the fridge for medicine, special foods, and leftovers or to chill a bottle of your favorite wine.
Stay and discover why Berry Manor Inn was named one the most romantic getaways in Maine.

Our new cookbook, Inn-Dulgences includes recipes for breakfast, chocolate and pies! Just $15 plus S/H. To order contact us: Toll free 800.774.5692 info@berrymanorinn.com