Romantic Camden, Maine Hotel
Choose Your Perfect Lodging at our Inn near Camden
Posh
| | Room | Guests | Bed | Bath | Features | |
| --- | --- | --- | --- | --- | --- | --- |
| | Room 4 | Two | Queen | Jetted Tub w/ Double Shower Heads | Main House, 2nd Floor | Check Rates |
| | Room 6 | Three | Queen | Jetted Tub w/ Double Shower Heads | Main House, 3rd Floor | Check Rates |
| | Room 7 | Two | Queen | Antique Clawfoot Tub w/ Shower | Main House, 3rd Floor | Check Rates |
| | Room 8 | Two | Queen | Antique Clawfoot Tub w/ Shower | Main House, 3rd Floor | Check Rates |
| | Room 10 | Three | Queen | Separate Body Jet Shower | Carriage House, 2nd Floor | Check Rates |
Luxury
| | Room | Guests | Bed | Bath | Features | |
| --- | --- | --- | --- | --- | --- | --- |
| | Room 1 | Two | King | Large Jetted Tub w/ Double Shower Heads | Main House, 2nd Floor | Check Rates |
| | Room 2 | Three | King | Soaking Tub w/ Shower | Main House, 2nd Floor | Check Rates |
| | Room 3 | Three | King | Jetted Tub w/ Double Shower Heads | Main House, 2nd Floor | Check Rates |
| | Room 5 | Three | King | Jetted Tub & Separate Custom Shower | Main House, 2nd Floor, Sleeper Sofa | Check Rates |
| | Room 9 | Two | King | 2-Person Jetted Tub & Separate Body Jet Shower | Carriage House, 2nd Floor | Check Rates |
| | Room 11 | Two | King | 2-Person Jetted Tub & Separate Body Jet Shower | Carriage House, 2nd Floor | Check Rates |
| | Room 12 | Two | King | 2-Person Jetted Tub & Separate Body Jet Shower | Carriage House, 2nd Floor | Check Rates |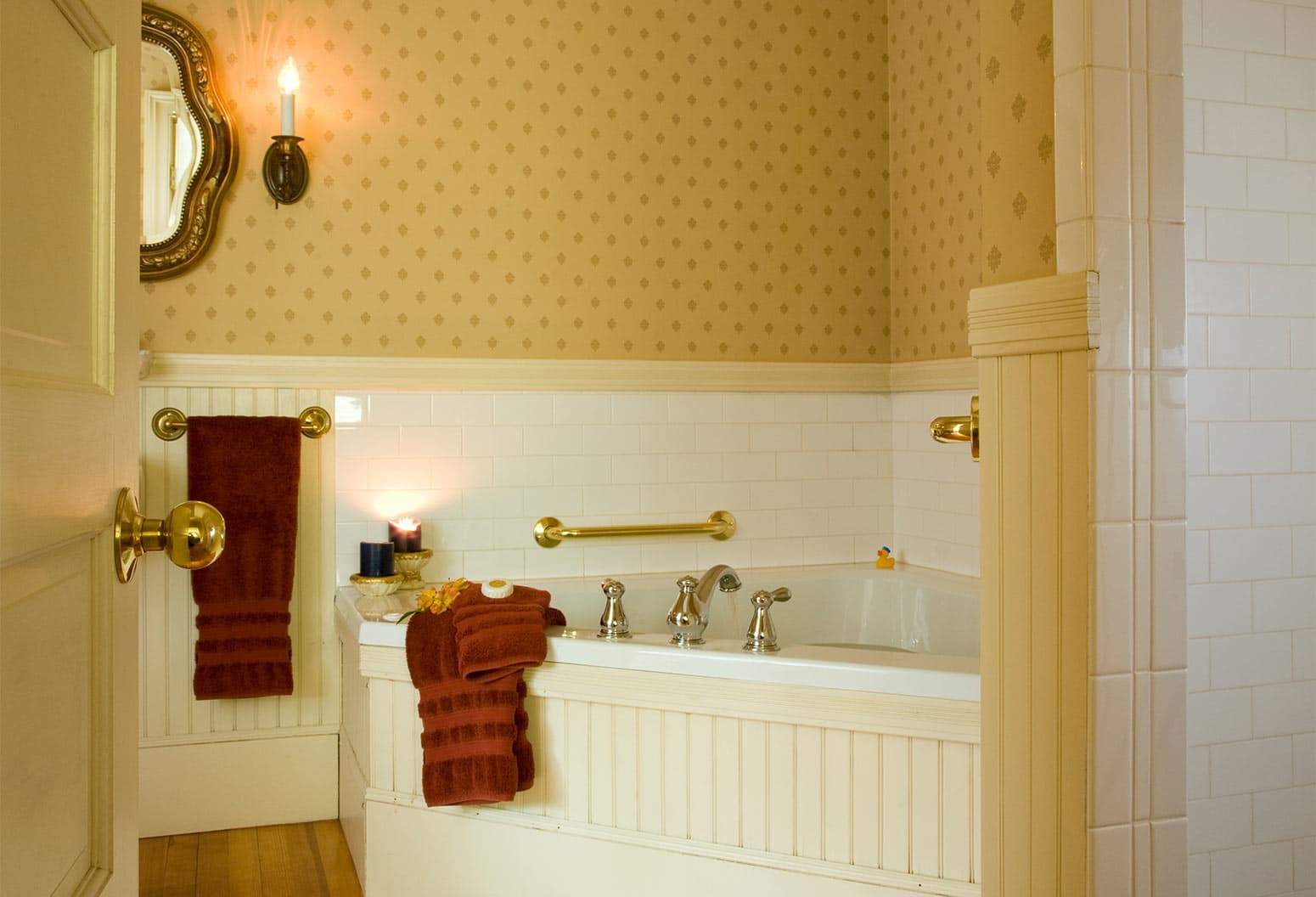 Room Amenities
Working Fireplaces in All Rooms
Individual Room Control for Heat and Air Conditioning
Comfortable Reading Chairs and Bedside Reading Lamps
Complimentary High Speed Internet Access
Flat Screen TVs with Cable & DVD Players in All Rooms
Hypoallergenic Pillows and Down Comforters
Luxurious Robes and Thick Plush Towels
Gilchrist & Soames Toiletries
Hair Dryers
Iron and Ironing Boards
Wine Glasses, Corkscrews & Ice Buckets
"Oops – I forgot" Collection of Personal Care Items Available
Rollaway Beds Available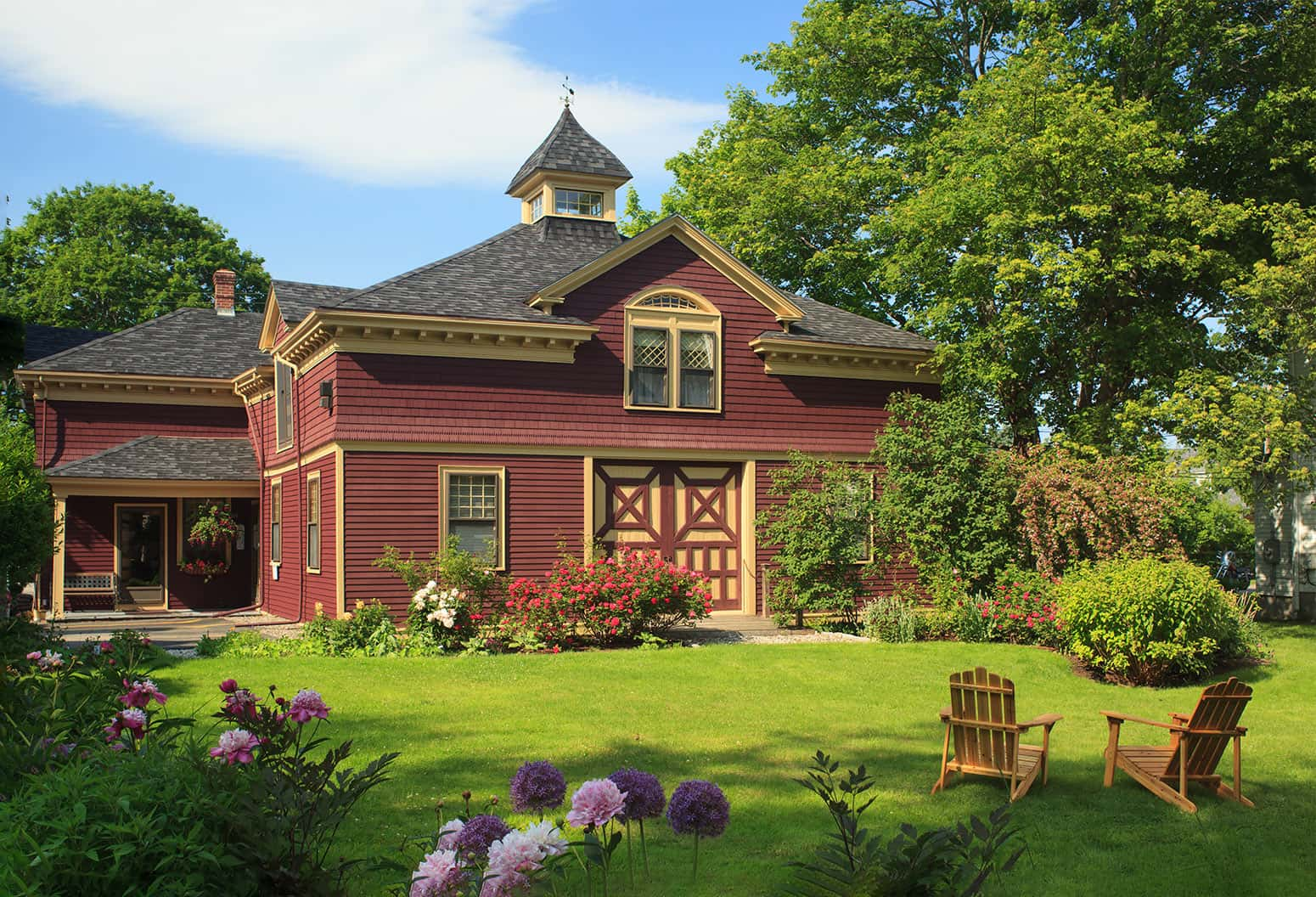 General Property Amenities and Services
Morning Juice, Coffee Service and Full Breakfast
Evening Sweets Featuring Homemade Pies
Access to 24 hour Guest Pantry
Turndown Service
Concierge Services
Off-street Guest Parking (one space per room)
Complimentary use of Tesla/Universal Charging Station for Guests
Guest Computer and Printer Workstation
Reservation Policies
COVID-19 Provisions
Providing a clean environment for our guests has always been a top priority for Berry Manor Inn.  This is clearly evidenced by our TripAdvisor's 5 star status.  With the ongoing COVID-19, we wanted you to know that we are following CDC's guidance for cleaning and disinfecting all area's of our B&B, and utilizing CDC recommended cleaning products. We care about your safety and the safety of our employees and community.
Room Rates
Room rates assume single or double occupancy and include morning juice and coffee, a full breakfast and complimentary use of common areas and guest pantry areas at our Rockland B&B. Our room rates will vary by date and room type and change frequently based on availability and occupancy. The stated rate in effect at the time of booking is the rate for the room. Rates are tiered and are usually lower for longer stays. Higher rates prevail for select peak dates, summer season (June through September), fall foliage (late September – late October), holidays and special events, etc. Please check the reservation calendar for the dates you are interested in.
YOU WILL ALWAYS GET THE BEST AVAILABLE ROOM RATE WHEN YOU BOOK DIRECTLY WITH THE INN (online on our website or calling the inn) AS COMPARED TO USING AN OTA (Online Travel Agent) LIKE BOOKING.COM, EXPEDIA, AIRBNB, BEDANDBREAKFAST.COM, ETC.. Reservations booked through an OTA also offer far less flexibility for changes for rooms, dates, or cancellations.
Although every effort is made to keep all stated rates on the internet and in print accurate, stated rates by the inn in effect at the time of booking will supersede any rates printed on the website, print material or other sources that are outdated or in error. We appreciate you bringing any rate discrepancies to our attention.
The inn has guest rooms available on the second or third floor of the inn or carriage house building that are accessible only by stairs as there is no elevator on premise. The owners or staff will gladly assist you with luggage. If you are in need of first floor handicapped accommodations please consider a stay at our sister property, the Rockland Talbot House, located directly next door.
Advanced Reservations
Advanced reservations are strongly recommended so that you are able to visit us on your preferred date and stay in your preferred guest room at our Rockland / Camden Maine area lodging.
Advanced Deposit
A deposit in the amount of 100% of the stay is required at time of booking. If using a Berry Manor Inn gift certificate for a reservation, a valid credit card will be taken to hold the reservation if the amount of the gift certificate does not equal the entire reservation cost. Please note that advanced deposits are charged automatically when booking online. If you are trying to use a gift certificate for your stay you will need to call the inn directly to book your reservation. Advanced deposits cannot be credited back to cover gift certificates.
Cancellation Policy
Banking regulations require us to pay our mortgage on time and to do so requires us to have a strict cancellation policy. As much as we will empathize with whatever life situation that is forcing you to cancel, we must enforce our cancellation and change policy for all reasons for everyone. You will be responsible for all charges as originally booked, regardless of when you booked, if you notify us of cancellation or change your reservation date within 14 days or less before your stated arrival date or 60 days or less during special events, holidays or group bookings. We will try to rebook the room to minimize the cancellation fee but are not always successful. If your notice of cancellation or change is given 15 days prior to the date of your stated arrival you will be charged a $50 cancellation/change fee or 10% of the total reservation, whichever is greater, for a normal booking.
If cancellation is a possibility or if air travel is part of your vacation, we would strongly suggest the purchase of travel insurance. Please visit Squaremouth.com or Insuremytrip.com to find the right travel insurance at the price you want to pay for medical, health, job, death, weather, or "Any Reason" coverage.
The cancellation policy for Special Events, Holiday and group events (two rooms or more even if booked separately) require a 61 day (Festival/Event specific) cancellation notice for a refund of your advanced deposit less $95 cancellation fee per room or 20% of the total reservation (whichever is more). This applies to the Maine Lobster Festival, North Atlantic Blues Festival, Maine Boats and Harbor Festival, Pies on Parade, holidays, and group events require a 61 day cancellation notice for a refund of your advanced deposit less $95 processing fee or 20% per room, whichever is greater. Guests will be responsible for all charges as originally booked if changes or cancellations are received less than 61 days of the stated arrival.  Weddings and elopements are non-refundable and you will be responsible for the entire amount of the booking.
Changes to Your Reservation
A request to change the date or to move a reservation is considered a cancellation request as we are potentially losing the opportunity to re-book the room. Our normal cancellation policy will be in affect.
Travel Insurance
With the unexpected nature of life today with aging parents, children, medical issues, inclement weather, and the state of air travel, we HIGHLY RECOMMEND that our guests purchase travel insurance. As much as we may empathize with your reason for cancelling, we are NOT able to absorb the loss of your cancelled rooms. We strictly enforce our cancellation policy and trip insurance allows our guests to be protected from financial hardship. We do not recommend any particular insurance company, but the following website allows consumers to compare insurance plans based on your needs to find a policy that best serves you:
Insuremytrip.com or Squaremouth.com
Inn Policies
Check-In/Check Out Times
Our preferred check-in time is anytime between 4 and 6 p.m. and check-out time is 11 am. If you know that you will be arriving after 6 pm., please call the inn to make arrangements for late check-in. Early check-ins may be considered only with advanced notice. Likewise if you require a later check-out; please make arrangements in advance with the innkeeper. The inn has a small window of time between check-out and check-in time to prepare our inn for our new arrivals and to bake fresh pies!! We greatly appreciate your respect for both our 11 am check out time and our  4 check in time. We recognize travel schedules have variability and will gladly offer to store your luggage, allow you to park your car on premise or give you access to our common areas including powder room to facilitate this schedule.
Smoking
The Berry Manor Inn is a smoke-free Rockland ME bed and breakfast inn. There is no smoking of any type (including e-cigarettes, vaping, marijuana or medical marijuana) allowed inside the buildings. Smoking is allowed outside only at designated areas. The inn reserves the right to charge the credit card on file a $250 fee to cover the cost of deep cleaning and/or replacing upholstered furniture, window treatments, rugs and bedding if it is determined that a guest has violated the inn's policy and smoked in any location inside the inn.
Children
Although guests with young children are welcome at our Rockland B&B, Berry Manor Inn caters primarily to couples, families with older children and individuals on business or looking for a respite from the hectic pace of today's world. Specific guest rooms are better suited for a 3rd person in a room as they can accommodate twin beds or a rollaway or by location to minimize the pitter-patter of little feet on the comfort of other guests. Our Rockland / Camden Maine lodging does not have high chairs, portable cribs or a regular children's menu. As the rates are based on single or double occupancy, there is a $45 fee per person per night for any additional person of any age in any guestroom.
Third Party Gift Cards, AAA and Loyalty Discounts
Please let us know at the time of booking if you are planning to redeem a 3rd party gift card, AAA discount or loyalty discount travel card from Select Registry. Blackout dates will often apply to festivals, holidays and special event periods for use of these gift cards and travel discounts, as these represent discounted room rates for us. Any 3rd party gift card cannot be used for reservations already discounted or with special offers; and are not valid for holidays or special events. AAA discounts are not offered on weekends or for holiday or special event periods and cannot be booked online. Third party gift cards, gift certificates, loyalty discounts or other discounts cannot be applied to reservations already paid in full that result in a credit due. Call the Inn to book your reservation if you plan on using a gift certificate of any kind.
Pets
Although the innkeepers love animals, our Rockland ME lodging does not allow any animals other than service animals on premise. Our Inn dog, Harley, may, on occasion, walk through the common areas of the inn but will not enter guest rooms or the carriage house. Please let us know if this will pose a problem for you. The inn can recommend a "Bed and Bone" boarding facility nearby for your four-legged travel mate. We reserve the right to charge a $250 cleaning fee if it is determined that an unannounced pet enjoyed our guest room with you.
Service Dogs
As required by federal law, the inn welcomes disabled guests with service dogs. We do appreciate being told when the reservation is being made that you or someone in your party will be traveling with a service animal. We do not allow service animals in training, emotional or therapy support animals. As there is no federal certification for service animals, we will determine if it is a legitimate request for a service animal by asking two legally allowed questions: If the service dog is required because of a disability? What work or task has the dog been trained to perform? As required by law, we do ask that the dog is under the control of the owner at all times (leash or harness) and is not left unattended in the guest room.
Prevailing Lodging Tax
All reservations and add-ons are subject to the State of Maine's prevailing lodging and sales tax requirements. As of 1/1/2016, current rates are 9% lodging, 8% prepared food, and 5.5% sales tax respectfully.
All policies above are subject to change and in the case of discrepancies the policy in effect at the inn will prevail. Policies stated above were last reviewed 12/17/2019.
.
Accessibility Policy
Berry Manor Inn, listed on the National Registry, warmly welcomes all guests. However, due to the historic significance of our 1898 Victorian Mansion, the property is not wheelchair accessible. Removal of necessary physical barriers for accessibility is not readily achievable as such removal would threaten or destroy the historic significance of the property.
These barriers include:
All of our guest rooms are located on the 2nd and 3rd floors
No elevator
Numerous steps leading to guest rooms
Narrow Hallways and doorways are not wheelchair accessible
Accessibility Features
We do offer both horns and strobes for all of our smoke alarm systems to help with guests with visual or auditory impairments.
For guests needing a 1st floor wheelchair accessible room, we offer Rockland Talbot House (seasonal).
Room #1 of the Rockland Talbot House offers a 1st floor accessible room featuring a private en-suite bath with walk-in shower and double handheld shower heads, horn and strobe fire alarm system, in room flashlight/ emergency light.
If you require specific items please inform us prior to your stay, and we will be happy to work with you to assure a pleasant and comfortable stay.
We work to ensure every guest who wishes to visit can do so regardless of their physical abilities. Among the ways we comply with ADA:
We ensure that individuals with disabilities can make reservations during the same hours and in the same manner as individuals without disabilities.
We have identified and described accessible features in our bed and breakfast and guest rooms in detail to allow individuals with disabilities to determine whether our B&B meets their needs.
Guests with service animals as defined in the ADA will be provided access to all areas of the inn afforded to those without service animals.
Website Accessibility
Berry Manor Inn is committed to facilitating the accessibility and usability of this website for all people with disabilities. We will continue to implement the relevant portions of the World Wide Web Consortium's Web Content Accessibility Guidelines 2.0 Level AA (WCAG 2.0 AA) or such other standards as required by the Americans with Disabilities Act (ADA). On a periodic basis, our website will be tested with assistive technology.
Please be aware that our efforts are ongoing. You may email us at info@berrymanorinn.com or call us 24/7 at (207) 596-7696 with questions or concerns regarding ADA accessibility, including issues accessing the website or with questions regarding the accessibility and personal needs.