Pumpkin spice and everything nice… That's what a coastal Maine fall foliage getaway holds in store for you. After the heat of the summer ebbs and nights take on a cool crisp edge, it's time for sweater weather. And that means it's also time for apple pie and cider donuts, and a drive up the coast of Maine to behold the spectacular fall colors. With a little insider information, you'll get a head start on the leaf peeper novices. So here's a little what, where, when, and why on fall foliage season in Maine. You know who. Go pack your bags and gear up. Here's all you need to know before you go.
What is Fall Foliage?
Though magical to look at, there's more than magic behind leaves changing color in the fall. But you don't have to be a rocket scientist to understand what's happening–just a little knowledge of how sunlight and chemistry combine to feed the trees. All leaves have red, yellow, green, and orange pigments, or color. Green dominates the summer months when chlorophyll is abundant and uses the energy from the sun to feed the leaves and keep them green through a process known as photosynthesis. But, as the days grow shorter and nights cool down, chlorophyll breaks down, allowing the remaining pigments to reveal themselves in brilliant color.
It's All in the Timing
A few trees begin to turn in late August and early September, just dotting the countryside with a hint of what's to come. Then color builds steadily through September and early October. But the real show bursts onto the scene come mid- to late-October. Because the peak of color depends on waning sunlight and cooling temperatures, northern Maine sees color first. Historically, peak conditions reach the mid-coast region in mid- to late-October, though there's no guarantee. It is up to Mother Nature after all. Fortunately, there are experts who spend considerable time and effort predicting and recording the highs and lows of foliage season in Maine. Check the Maine Foliage website for accurate info on when and where foliage is at its peak.
"I can smell autumn dancing in the breeze. The sweet chill of pumpkin, and crisp sunburnt leaves." – Ann Drake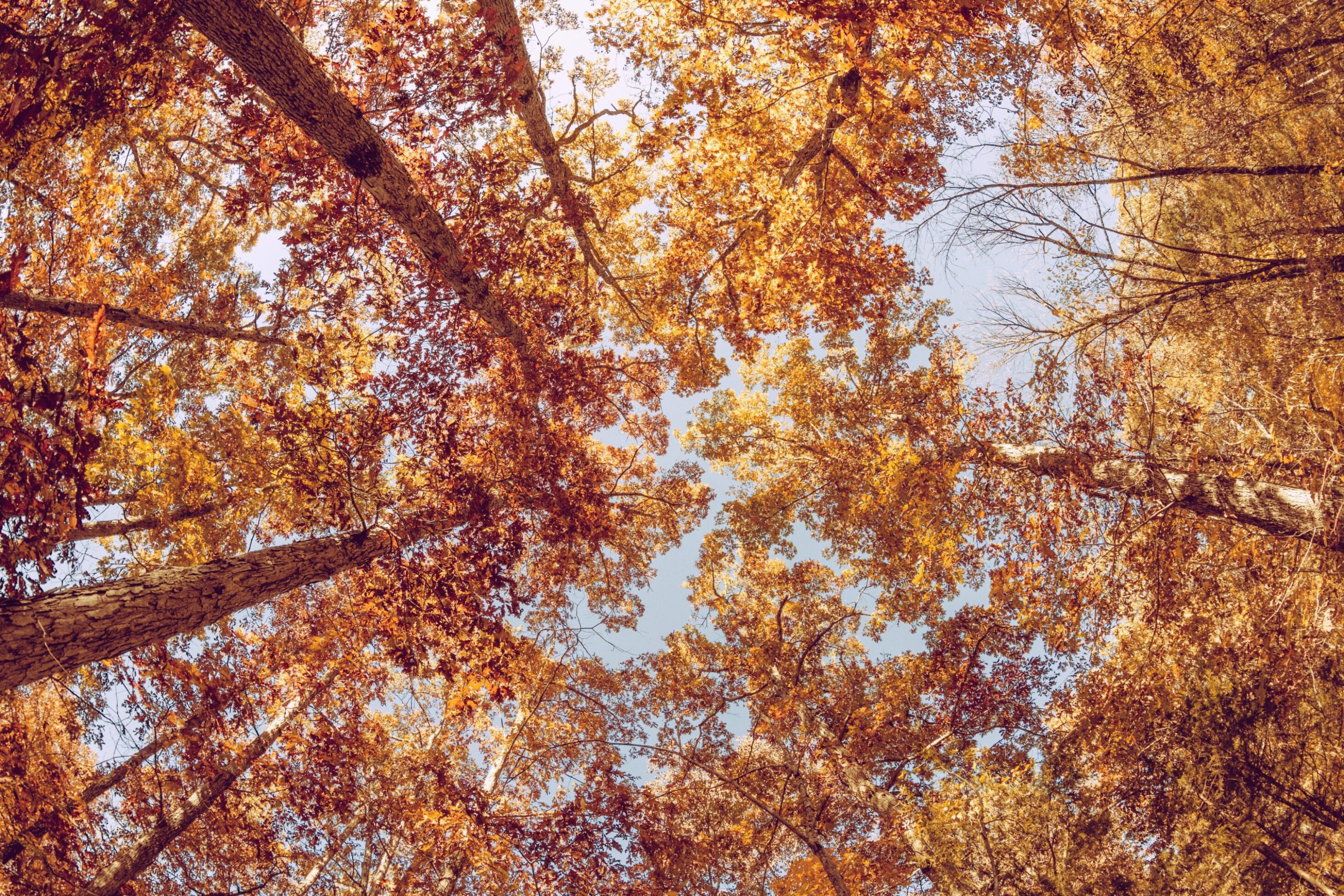 Road Tripping in Color
Coastal Route 1 seems to be the happening place to take a scenic drive to see the fall foliage, especially around Rockport, Rockland, and Camden. But for a fuller, more enriching experience, many prefer to meander the long and winding roads that lead to the tip of Maine's numerous peninsulas. St. Georges, Cushing, Pemaquid, and Boothbay, in particular, are especially lovely in autumn.
Shuffle Through the Leaves
Though road tripping tops the list for many venturing to Maine for leaf peeping, getting out in it is a full five senses experience. Listen to the crunch of leaves beneath your feet. Breath in the warm earthiness of soil and decaying leaves. Feel the warmth of the sun on you face. Let the brilliant crimson, rust, and golden hues light up your eyes. A walk in the woods on a bright autumn day can fill you with a sense of peace like no other. Camden Hills State Park is the place to go to immerse yourself in color.
An Apple a Day
For the quintessential fall foliage experience, plan to attend the Great Maine Apple Day, October 18, 2020. This fun and funky festival celebrates all things apple. Sample cider. Try your hand at cider pressing. Taste varieties of apples to find your favorite. Then check out the mouth-watering entries in the apple pie and dessert contest.
A Picture is Worth a Thousand Words
Don't forget your camera or smart phone while touring fall foliage in Maine. Even an amateur photographer can capture a gorgeous shot with the right equipment. Dozens of photo-worthy spots hide in plain sight along the main streets and backroads of Rockport, Rockland, and Camden. Find inspiration in a single tree, a montage of colorful leaves under foot, or splashed against the backdrop of an iconic Maine lighthouse.
Stay in Style
At the end of the day, you'll want to put up your feet and relax in luxury. At the Berry Manor Inn in Rockland, you can see the fall colors in our beautiful gardens right from your guest room. Plus, you'll be in the heart of coastal Maine, just a stone's throw from all the glorious color that paints the mid-coast region. Take advantage of one of our seasonal packages or add a special enhancement to complete your coastal Maine fall foliage getaway.
September 2020