The Pie Moms of Berry Manor Inn filmed for upcoming "Dirty Jobs" show
Janet LaPosta, Ally Taylor and Anne Manneheim fondly known as "the Pie Moms of the Berry Manor Inn" are once again destined for Hollywood as stars in a reality television show. Mike Rowe, the creator and executive producer of Discovery Channel's Emmy-nominated series Dirty Jobs With Mike Rowe, recently visited Rockland to film an upcoming segment with the Berry Manor Inn's Pie Moms. The segment will highlight Maine's wild blueberry industry following host, Mike Rowe raking blueberries at a local blueberry farm and then learning how to make a blueberry pie with the Pie Moms. The show is tentatively scheduled to air in the next four to six months.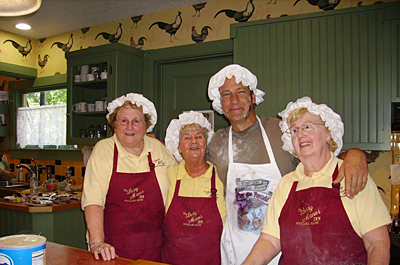 Dirty Jobs is a reality television show on the Discovery Channel produced by Pilgrim Films & Television in which host Mike Rowe is often shown performing difficult, strange, disgusting, or messy occupational duties alongside the typical employees. The show is now in its fifth season, with more than 130 episodes highlighting over 200 jobs. Dirty Jobs is entirely unscripted and Rowe performs his role with a sense of humor and respect for the common laborer. According to the show's website, the notion of depicting hard work as noble and fun is central to Rowe's personal mission. Mike Rowe has worked in just about every industry and has a goal of filming the show in almost every state. The filming of this episode will add the state of Maine to growing list of states where episodes for the popular show have been filmed.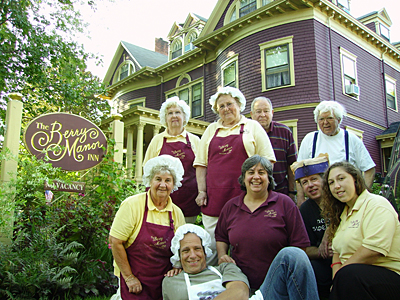 Ally Taylor and Janet LaPosta, the mothers of Cheryl Michaelsen and Mike LaPosta, owners of the Berry Manor Inn, have each been making pies for more 50 years. "They can whip up a pie in their sleep" comments Cheryl Michaelsen "and there is nothing that they do alike except for the size of the pan," finished Michaelsen. The moms make more than 600 pies a year for Berry Manor Inn guests to enjoy as part of the inn's complimentary evening sweets amenity. The Berry Manor Inn Pie Moms got the attention of host Mike Rowe from the Food Network's Throwdown with Bobby Flay episode filmed in June, 2007 and from the promotional efforts of the Historic Inns of Rockland. A photograph featuring the three moms covered in flour and displaying their famous pies has appeared in numerous newspapers and magazine articles as a promotionfor the Historic Inns of Rockland's Pies on Parade event held annually in January in celebration of National Pie Day (January 23, 2011).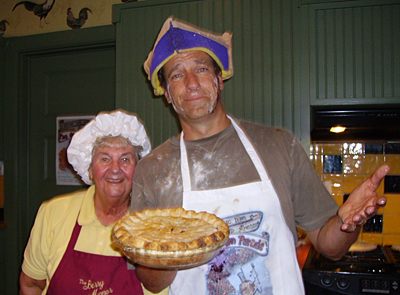 The Dirty Jobs segment filmed in Rockland is scheduled to be aired in the first quarter, 2011. The 7th Annual Pies on Parade event is scheduled for January 23rd, 2011 and will not only include pies served from the four members of the Historic Inns of Rockland but also from more than 20 local restaurants, shops and spas. Last year's Pies on Parade event sold out and raised more than $9,000 for Area Interfaith Outreach (AIO)'s local food pantry. For ticket information please visit www.historicinnsofrockland.com or call 207-596-6611.