When on a mission to tour lighthouses in Maine, you first need to narrow down your destination. With 3,478 miles of navigable coastline and more than 60 lighthouses guiding sailors to safety, Maine does not lack for beautiful beacons to visit.
Grouping them by region seems the best way to tackle the task. While the preponderance of lights dots the landscape of Penobscot Bay and Acadia in mid-coast Maine, southeast Maine and Downeast Maine share equally in the bounty of Maine lighthouses.
Lighthouses in Maine
Most of Maine's lighthouses and keeper's homes are owned or leased by non-profit groups or municipalities, while the Coast Guard maintains the lights. A few are privately owned and not open to the public. Although some are located on ledges or islands in the middle of the bay, requiring transportation by air or boat to view, several can be easily accessed by land. This means mapping a lighthouse land tour will reap great rewards for those in hunt of these iconic towers.
A few stand out as Instagram-worthy photo ops for the amateur photographer, most notably Portland Head Light and Owl's Head. But each in its own right deserves a nod not only for their beauty but also for the remarkable role they played in maritime history.
Guiding sailors in a stormy sea, these signature beacons drew attention to the many treacherous offshore dangers that threatened shipping traffic throughout the years. A visit to the Maine Lighthouse Museum in Rockland is a great way to learn more about the history of lighthouses, their keepers, and the Coast Guard's role in the lifesaving efforts of wrecked sailors. A spectacular collection of Fresnel lenses, lighthouse artifacts, and Coast Guard lifesaving equipment create a lasting impression and are well worth a few hours of your time as you begin your Maine lighthouse tour.
This comprehensive list of Maine's lighthouses, grouped alphabetically by region, reveals a tidbit about each. Because lighthouses attract many to our area, it seems fitting to provide at least a brief overview of each. For more information on individual beacons, accessibility, and location, click the link provided.
Penobscot Bay and Acadia Lighthouses
Baker Island: Now part of Acadia National Park, Bakers Island Light was decommissioned in 1955 and is now listed on the National Register of Historic Places.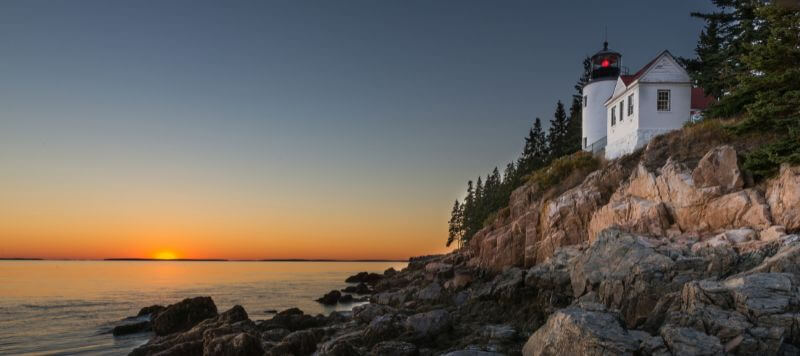 Bass Harbor: Located in Acadia National Park, Bass Harbor Light marks the entrance to Blue Hill Bay.
Bear Island: Situated at the entrance to Northeast Harbor on Bear Island, the lighthouse is privately leased and not open to the public.
Blue Hill Bay: Built to guide ship traffic to the once busy lumber port of Blue Hill Bay, the light was deactivated in 1934 but replaced by an automatic light that now operates by solar power.
Browns Head: This light on the island of Vinalhaven is still active and protects the busy strait that separates the island from North Haven.
Curtis Island: This light marks the entrance to Camden Harbor and is an active light owned by the town of Camden.
Dyce Head: Castine, Maine, is the home to this light that shines brightly at the entrance to the Penobscot River.
Eagle Island: Another active light, Eagle Island overlooks East Penobscot Bay and continues safely guiding lobster boats and private crafts.
Egg Rock: This square brick tower on a rocky promontory in Frenchman's Bay remains active, flashing a red beacon every 40 seconds.
Fort Point: Guarding the mouth of the Penobscot River on Cape Jellison, Fort Point is one of nine lighthouses in Maine still using a Fresnel lens.
Franklin Island: Franklin Island Lighthouse sits in the center of the St. George's River, guarding what many consider one of the most dangerous areas on the coast of Maine.
Goose Rocks: One of Maine's "sparkplug" lighthouses, Goose Rocks sits close to North Haven in Penobscot Bay. While it remains active for navigation, it is privately owned.
Great Duck Island: Maintained by the Coast Guard, Great Duck is owned by the College of the Atlantic and sits 5 miles south of Bar Harbor in Frenchman's Bay.
Grindle Point: This is one of Maine's few lighthouses that offer visitors an opportunity to climb to the top of the tower in summer.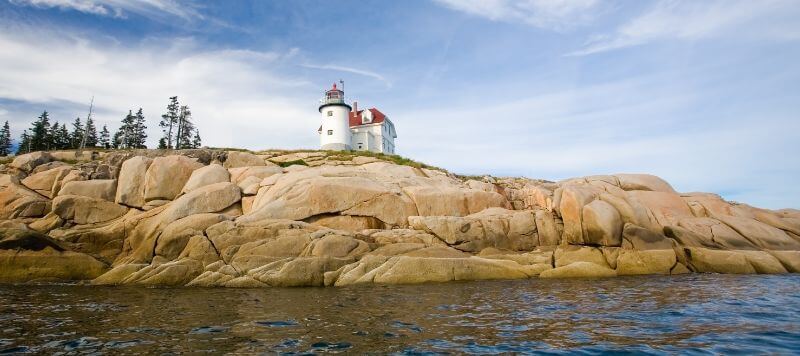 Heron Neck: Perched on Green Island in Vinalhaven, Heron Neck remains an active light station and is listed on the National Register of Historic Places.
Indian Island: This light at the entrance of Rockport Harbor was deactivated in 1934 and is now a private residence.
Isle au Haute: Also called Robinson Point Light, the lighthouse grounds are open to the public and offer overnight stays in the keeper's quarters.
Mark Island: Mark Island Light protects the Deer Island Thorofare, a popular inland passage. In 1997 ownership was passed to the Island Heritage Trust.
Marshall Point Lighthouse: Positioned at the entrance to Port Clyde Harbor, you may remember this tower from the film "Forrest Gump."
Matinicus Rock: One of 11 seacoast lights off the coast of Maine, the light is accessible by ferry from Rockland.
Monhegan Island: Named for the eponymous island on which it sits, the lighthouse complex now operates as a museum, but the Coast Guard remotely maintains the light itself.
Mount Desert Rock: Operated by the College of the Atlantic as a whale research station, the light remains an active navigational aid.
Owl's Head Lighthouse: One of the most picturesque and often-photographed lighthouses, Owl's Head is easily accessible by foot. The light shines over Penobscot Bay 100 feet above sea level.
Pemaquid Point Lighthouse: This historic lighthouse sits atop Pemaquid Neck and is open to the public from May through October.
Pumpkin Island: Now privately owned, Pumpkin Island Light once protected the entrance to Eggemoggin Reach, a channel between Penobscot Bay and Blue Hill Bay.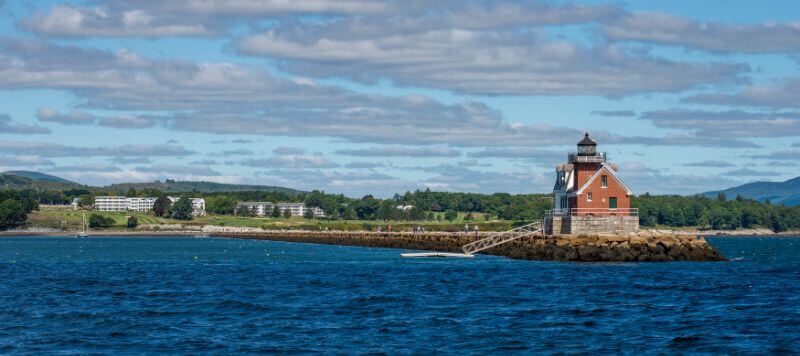 Rockland Breakwater Lighthouse: Standing tall at the end of a mile-long breakwater in Rockland, Maine, this light is preserved and protected by the Friends of Rockland Harbor Lights.
Rockland Harbor Southwest: Protecting the southeast entrance to Rockland Harbor, is one of Maine's newest lights and was built entirely by private funds.
Saddleback Ledge: A tiny islet between isle au Haute and Vinalhaven, Saddleback Ledge serves as the host of this light. Automated in 1954, the Coast Guard currently maintains the light house.
Tenants Harbor: One of only 15 privately owned lighthouses, Tenants Harbor Light is often depicted in the works of Andrew Wyeth and Jamie Wyeth, the current owner.
Two Bush: Now owned by the US Fish and Wildlife Service, Two Bush is part of the Maine Coastal Islands Wildlife Refuge.
Whitehead Island: Located at the southeast entrance to Penobscot Bay in the town of St. George, Whitehead Island Light continues to shine its beam for mariners but has a second mission to provide adult programming that offers insight into historic Maine lighthouse stations.
Southeast Maine Lighthouses
Boon Island: The tallest of Maine's lighthouses, Boon Island Light is located on tiny Boon Island off the southern coast of Maine.
Burnt Island: Located in Southport, Maine, Burnt Island is the second oldest surviving lighthouse in Maine. Best known for its living history museum, where guides in period costume offer up a peek into the life of a lighthouse keeper.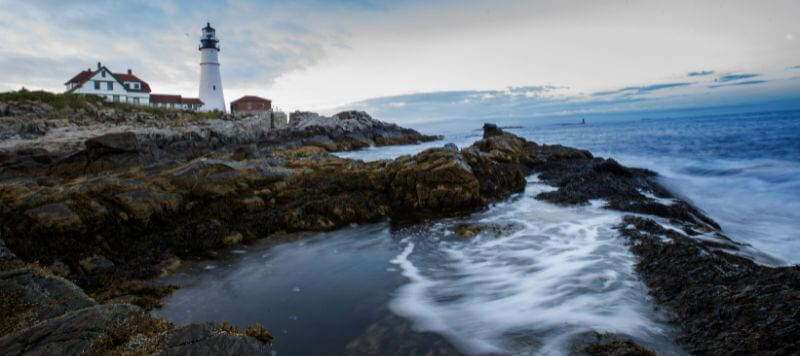 Cape Elizabeth Light: Also known as Two Lights, the western tower was discontinued in 1924. Now privately owned, the eastern tower remains visible from Two Lights State Park on Cape Elizabeth.
Cape Neddick: Also known as Nubble Light, Cape Neddick is perhaps the most photographed lighthouse in Maine due to its rocky location off the coast of York, Maine.
Cuckolds: Situated off the tip of Southport Island at the entrance to Boothbay Harbor, Cuckolds Light was decommissioned in 1974 and is the former home of a bed and breakfast inn, now permanently closed.
Doubling Point: Located on the Kennebec River in Arrowsic, Maine, Doubling Point remains an active navigational aid.
Goat Island: Just off Cape Porpoise in southern Maine, Goat Island Light ushered sailors safely into Cape Porpoise Harbor.
Halfway Rock: Perched at the mouth of Casco Bay, this lighthouse is nearly inaccessible and badly damaged by storms. Its name derives from its location, halfway between Cape Elizabeth and Cape Small.
Hendricks Head: Located in Southport, Maine, at the mouth of the Sheepscot River, the light shines continuously, though the lightkeeper's house is now a private residence.
Kennebec River Range: Built in 1898 at the entrance to Bath on the Kennebec River, the station consists of 2 towers connected by a wooden walkway.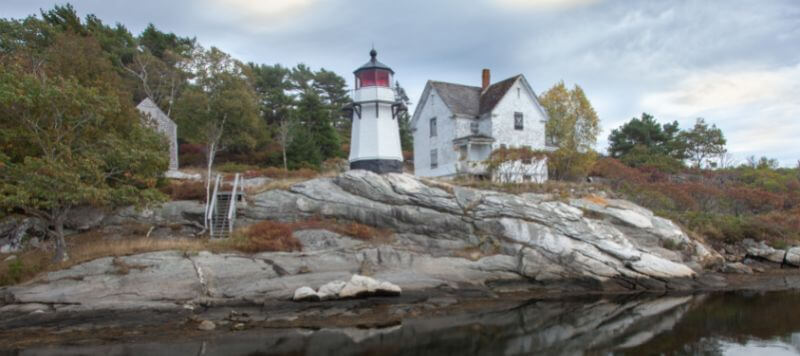 Perkins Island: Located on an island in the Kennebec River, the light was constructed to mark the channel for ships leaving Bath.
Pond Island: Located in the Pond Island National Wildlife Refuge, near the mouth of the Kennebec River, the best view of it is from Popham Beach.
Portland Breakwater Lighthouse (Bug Light): Known as "bug Light" due to its short stature, it played a significant role in protecting Portland Harbor after its construction in 1875.
Portland Head Light: Maine's oldest lighthouse, situated adjacent to Fort Williams Park in Cape Elizabeth, Maine, is frequently photographed for its spectacular ocean views.
Ram Island Ledge: This light marks the northern entrance to Portland's outer harbor and is now privately owned.
Sequin Island: Standing tall at the mouth of the Kennebec River near Popham Beach and Fort Popham. Sequin Island sports the highest focal point of all active Maine lighthouses.
Spring Point Ledge Lighthouse: Situated on top of a 900-foot breakwater, the view from the lighthouse encompasses the skyline of Portland.
Squirrel Point: Automated in 1982, this light sits on Squirrel Point on Arrowsic Island and forms one part of the four navigational aids along the Kennebec River just outside of Bath.
Whaleback: This historic lighthouse sits at the mouth of the Piscataqua River near Kittery, Maine, and towers 59 feet above sea level.
Wood Island: This active lighthouse just outside of Biddeford Pool in Saco Bay offers public tours during July and August.
Downeast Lighthouses
Libby Island: Libby Island Light protects the mouth of the Machias River and the island, known as one of the foggiest spots in the entire nation. The US Fish and Wildlife Service own the lighthouse and have opened it  to the public.
Little River: For those interested in an overnight stay, Little River Light is maintained by the American Lighthouse Foundation, which restored the structure, and now offers the keeper's house for overnight visitors.
Lubec Channel: One of three remaining "sparkplug" or "wedding cake" lights, located in Lubec, Maine's far eastern town, this light is now in private hands.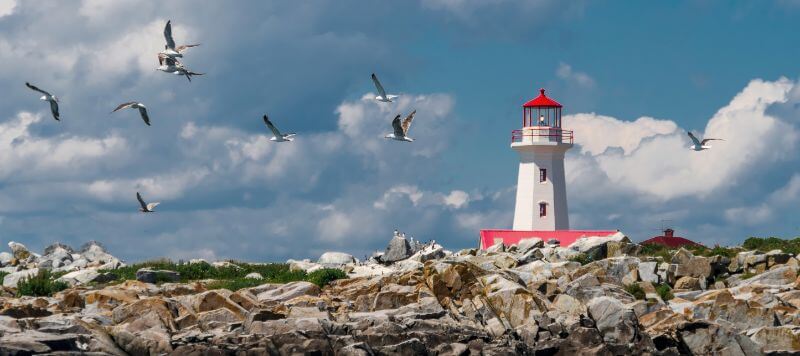 Machias Seal Island: Located in the center of a major shipping channel on an island disputed by both the US and Canada, the lighthouse is automated and staffed by keepers on a rotating 28-day cycle.
Moose Peak: Moose Peak Lighthouse, located on the oddly named Mistake Island southeast of Jonesport, was automated in 1972 and has since fallen into private hands.
Mount Desert Rock Lighthouse: The isolated location of Mount Desert Rock Lighthouse, some 26 miles from the nearest harbor, is currently owned and maintained by the College of the Atlantic in Bar Harbor, Maine.
Narraguagus Island: Pond Island is home to Narraguagus Island Light, built to protect a once significant deepwater port. It was decommissioned in 1934 and is now privately owned.
Nash Island: This square, pyramid-shaped lighthouse is now under the protection of the Friends of Nash Light, whose mission is to restore the once important navigational aid to South Addison, Maine.
Petit Manan Lighthouse: Established in 1817, this is one of the state's tallest lighthouses at 123 feet. The best view is from the water or at a distance from the mainland at Millbridge.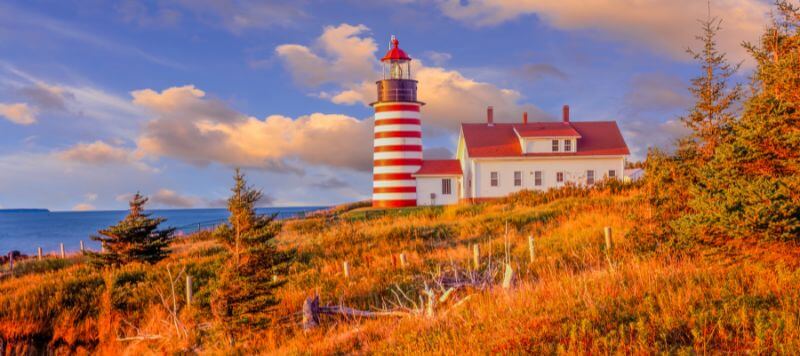 West Quoddy Head Lighthouse: Located in Quoddy Head State Park at the easternmost point of the contiguous US, the lighthouse opens on Memorial Day for tours and visitors.
Whitlocks Mill: Located on the banks of the Saint Lawrence River, Whitlocks Mill Light was the last and northernmost lighthouse to be built in the state of Maine.
Maine Open Lighthouse Day
Sponsored by the US Coast Guard, the Maine Office of Tourism, and the American Lighthouse Federation, Maine Open Lighthouse Day throws open the doors to more than a dozen of Maine's iconic lighthouses. The beacons are open to the public for tours and an opportunity to climb these magnificent maritime towers from 9:00 AM to 3:00 PM. Scheduled for September 9, 2023, make plans now to book a stay at the Berry Manor Inn, where you'll be well-located to take advantage of this golden opportunity to visit.
For More Information
We have often written about iconic Maine lighthouses, their beauty, history, and significant role in Maine's maritime history.
Updated January 2023