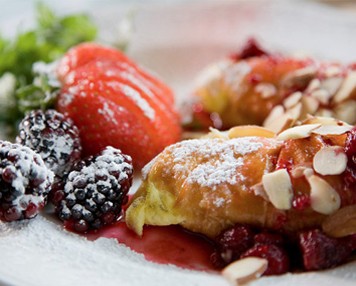 Sample Breakfast Menu
Examples of  some dishes you may see for breakfast.
(not all items are served at one time, and menu items vary daily)
Poached Pears with Yogurt Sauce
Raspberry Stuffed French Toast
Lemon Poppyseed Cake
Baked Eggs with Tomatoes & Basil
Red New Potatoes with Dill
Maine Blueberry Sour Cream Coffee Cake
At our
Rockland, Maine bed and breakfast
 we strive to "wow" our guests with the "Bs" in Bed and Breakfast!
We start off the morning with coffee, juice and tea service available at 7 am so the early risers can start on their caffeine intake. We don't believe in alarm clocks on vacation so we choose to serve our multi-course breakfast anytime between 8 and 9:30 am at individual tables in the main dining room. Feel free to stroll down at 8 am or roll out of bed, slip on one of our comfy robes and sit down at 9:30 am.
We serve coffee or tea, assorted juices, a fruit course, homemade bread or pastry and a main course with meat and an entrée that alternates between "sweet" and "savory". We post our menu the night before and encourage guests to let us know of food preferences, any allergies or other dietary needs like Gluten Free, Dairy Free, Vegetarian etc. in advance so that we can prepare a breakfast choice to meet all needs. We always have alternative breakfasts available like hot or cold cereal, plain scrambled eggs or plain French toast so please let us know your preferences at check-in.
Join us in our Rockland, Maine B&B for the getaway of a lifetime.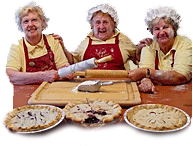 Learn more about our Guest Pantry, and meet the Pie Moms!