Enjoy a Day on Penobscot Bay!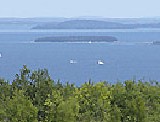 Get the most out of your time in coastal Maine by combining a real Maine Lobster adventure cruise with Captain Jack's, a working lobster boat, in the morning  (10:30) with a two hour sail on the Morning in Maine, a coastal ketch, in the afternoon (1:00).
Enjoy a wonderful picnic lunch which includes a lobster roll, chips, dessert treat and drink in between your boating adventures. Enjoy the sights and sounds of a working harbor and see marine birds, seals, lighthouses and the many islands of Penobscot Bay surrounded by a sea of lobster buoys. Our Penobscot Bay sailing and feasting package is perfect for the adventurer.
Ask for "A Day on the Bay" package with your innkeeper for just $190 per couple. Available June until early to mid-October.