Primo Restaurant – A Full Circle Kitchen in Rockland Maine
The Rockland/Camden area of Midcoast Maine is definitely recognized as one of the top two "foodie" Meccas for Maine with the Portland being the other. In any discussion about the best restaurants in the Rockland/Camden area or in the entire state of Maine you have to mention Primo Restaurant and chef/co-owner Melissa Kelly.
Primo Restaurant in Rockland, Maine will being its 15th year in business when it opens May, 2014 and during their tenure they have brought national attention to the little coastal town of Rockland Maine for her full circle kitchen and farm to table dining. The food is described as "hearty Italian". The menu changes daily based on what was harvested from the restaurant's garden or what the local fisherman or forager have brought to her. The only item that you can always find on the menu is her signature Pork Saltimbocca. Advanced reservations are strongly encouraged and reservations will open April 1st for the 2014 season.  Several years ago, they opened "Primo Tavern" upstairs where you can just walk in without reservations and enjoy dining from the tavern menu of antipastos, small plates or pizza or order anything off of the full menu from downstairs.  Most nights in season the Tavern is rocking so if you know you want to dine at Primo and have not made reservations plan on dining early (tavern opens at 5pm) or later in the evening (after 8 or so); Thursdays and Sundays have traditionally been $1 oyster nights!
In 1999, Melissa Kelly won her first James Beard Award for Chef of the Northeast for her work at the former Old Chatham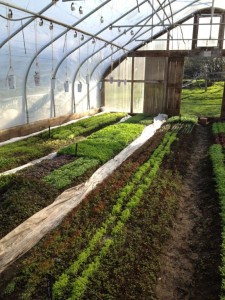 Sheepherder's Inn in Old Chatham New York.  Shortly thereafter the restaurant closed and Melissa and partner Price Kushner went looking for where they would open their first restaurant and decided on the present location in Rockland, Maine.  When they opened the restaurant in April, 2000 the food world descended on this small coastal community and was a buzz with what Price and Melissa had accomplished.  Most figured she would choose to open her first restaurant in more of a metropolitan area but this was not the case.  Rockland supposedly was much like the small fishing village where Primo, Melissa's grandfather and restaurant namesake and the one who stirred her passion for food, lived and where there were small farms, local cheese makers, vineyards, mushroom foragers and fisherman that could help supply the restaurant with seasonal fresh ingredients for Melissa to work her magic.
Additionally, the restaurant is on almost 4 acres which may seem a lot for most restaurants but it not much for Primo when you consider for the small farm that they have developed and the full circle kitchen that she has honed.  Today, Melissa and Price raise their own heritage pigs, laying hens, guinea fowl, and ducks; have several greenhouses and produce most of the herbs, greens and vegetables used in the restaurant; have their own bees and make their own honey; and have a small grouping of apple and pear trees on their property. They compost everything and have been nationally recognized for being one of the greenest restaurants in the US. Melissa is one of the first chefs in the country to raise and slaughter her own animals on premise and nothing is wasted.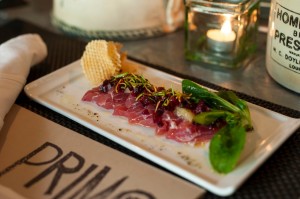 Since it opened the Berry Manor Inn and Primo Restaurant have enjoyed a very symbiotic relationship.  The Berry Manor Inn having opened in June, 1999 was the first high end luxury bed and breakfast in Rockland, Maine and Primo when they opened in April, 2000 quickly became what many food critics hailed as one of the top restaurants in Maine if not the Northeast.  For the past fifteen years, this relationship has continued with many of the patrons of Primo staying at the inn and many of the guests of the inn dining at Primo. The Berry Manor Inn offers a New Year's Eve package which features a festive dinner at Primo to ring in the New Year as the centerpiece and a Garden Tour Package in the summer.
If you consider yourself a foodie than a dinner at Primo is not to be missed.