Birding in Midcoast Maine
Maine is one of the most forested states, has over 3500 miles of coastlines,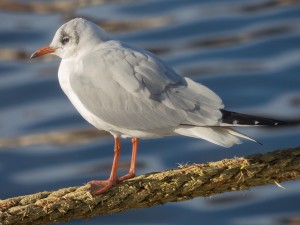 has hundreds of lakes and is the endpoint for the Appalachian mountain range all making Maine one of North America's top birding destinations. With the wide range of habitats and diverse landscapes of Maine, the variety of birds regularly seen in Maine numbers over 330 species and birding in Maine is a year long activity.
According to Maine's Birding trail, the Midcoast region of Maine is rich in bird species and in prime birding locations.  Some of the best birding sites near Rockland include the Weskeag Marsh, Beech Hill, CamdenHillsState Park and MerryspringNatureCenter.  Additionally, Rockland is home to Maine Audubon's Project Puffin Visitor Center and The Friends of Maine's Seabird Islands Visitor Center.  Project Puffin Visitor Center is focused on educating people about the Atlantic Puffins and showing live webcam footage from their colony 20 miles offshore.  The Friends of Maine's Seabird Islands offer
information on puffins, island visits, artwork and efforts to conserve and protect coastal habitats for seabirds and wildlife. They run free birding and wildlife lectures and educational programs throughout the year at the visitor center.  They also offer an Annual Seabird Cruise out of Port Clyde to see puffins and other marine birds and wildlife with biologists and naturalists that are involved in the research efforts.
The Weskeag Marsh in South Thomaston is considered to be one of Maine's best birding marshes and is the largest salt tidal marsh in the Midcoast area.  There are over 700 acres in the state's Wildlife Management area that includes tidal salt marsh along the Weskeag River, some fields and small forest area that includes an area within the towns of Thomaston, South Thomaston, Rockland and Owls Head. The area is considered the most productive and species-diverse shorebird area within the PenobscotBay region.  In 2012, a viewing platform, interpretive kiosk and boardwalk trail through part of the marsh was opened to allow visitors to observe the wildlife while protecting the salt marsh and the birds. The trail is part of the Georges River Land Trust.
Beech Hill in Rockport is conservation land that is part of the Coastal Mountains Land Trust. It encompasses about 300 acres which include organic blueberry fields, grassland bird habitat and mature woods. At the summit is the recently restored stone harvest hut with a sod roof that is listed on the National Registry of Historic Places. There is an approximate 1.5 mile (roundtrip) trail through the grounds.  This is the location for the semi-annual bird counts and the past two New Year's counts have been for record high numbers of species.
Camden Hills State Park offers over 25 miles of hiking trails with stunning views of Penobscot Bay. Maine's most
common bird species are found throughout the property with the summits providing excellent viewing for hawks. Merryspring Nature Center in Camden offers 66 acres of meadows, gardens and woodlands for birding.  It is open daily and year round.  The visitor center offers workshops, lectures and a library.
There are plenty of birds to see in the Midcoast Area and plenty of bird enthusiasts and experts in the area also so start packing your binoculars and field guides and book your trip at our Rockland, Maine bed and breakfast.
Tags: birding in Maine, Maine wildlife